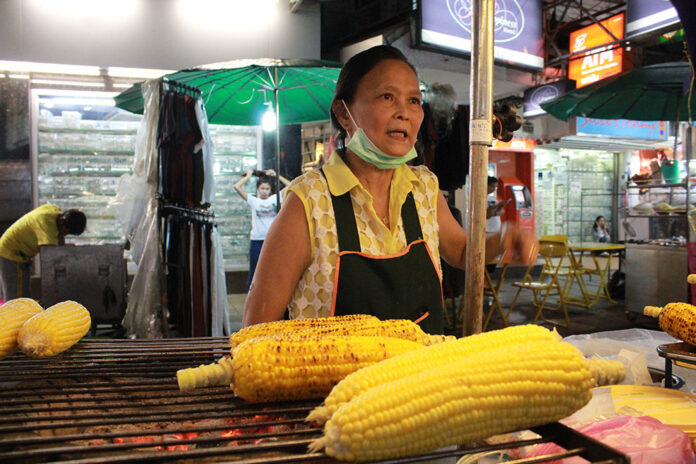 Photos by Taylor McAvoy
BANGKOK — By 7pm, Saowalak Unkaew sets up her grilled corn cart at one end of Khaosan Road, something she's done long before the tourism boom turned it into a bustling hive of commerce about 20 years ago.
Around her, other shops, stalls and food carts were running as usual Tuesday night, just hours after the authorities announced they would soon be reined in by regulations – rules they were exempted from just last year.
Read: In Reversal, City Won't Spare Khaosan, Chinatown Vendors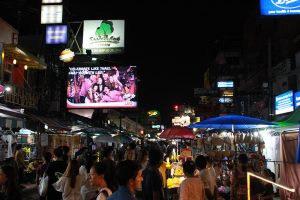 Concerns are now spreading among the men and women whose livelihoods depend on the constant stream of tourists. Asked about this latest effort, Saowalak said she still has no idea about the details and doesn't think new regulations would do any good for her and other vendors.
"The police said something about it yesterday, but they didn't tell me when exactly," she said on Tuesday night while keeping her cobs turning. "We're all good and settled here. We're not blocking the way. If there's a car or an ambulance coming in, we can of course move out of the way."
"If they do it for real, it will choke us," she continued.
With new, unspecified regulations said to be coming in only two weeks, Khaosan Road vendors voiced dissatisfaction and questions about the latest push to govern the area. Most said they had not been told what the changes would be and blamed the officials themselves for overcrowding.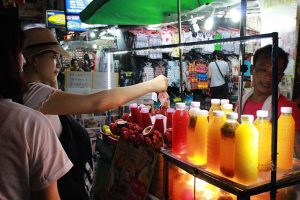 A juice seller at a nearby cart, who identified himself only as Ah Joo, said some rules were recently put in place.
"After 8pm, they will order us out to Tanao Road," he said, referring to the small road at the east end of Khaosan. "Things are still not certain for this week. They're discussing it."
As if on cue, a parade of motor cops rallied from the police station at the west end a little past 8pm, honking loudly as to give advance warning. At the sound, sellers packed their things and moved their stalls onto the sidewalks of the road, which is closed to traffic. Food carts were pushed to Tanao Road. The busy-looking road of an hour ago was cleared in minutes.
It was just as Panya Takolsakda, who sells barbecued meat, had described a moment earlier.
"We don't have a lot of say in this. We are moved over there and can't sell anything. … They're doing this from 8pm to midnight," he said, adding that it started about a week ago. "All of us pile up there, and people stumble over each other just trying to get in here."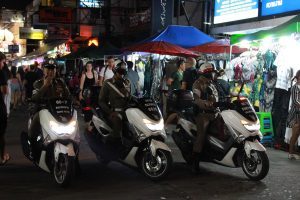 Sub-Lt. Jirapat Sookmat, who's part of the local patrol unit, said it's just the first steps toward implementing a new policy announced Tuesday by deputy governor Sakoltee Phattiyakul, a policy the officer said he still doesn't know the details of.
He expects to learn more next week.
"We have to wait after the meeting," he said. "Now we just want to clear the street because there are too many carts, and make it easy for people to walk around."
He added that they might move to reposition the stalls onto the sidewalks.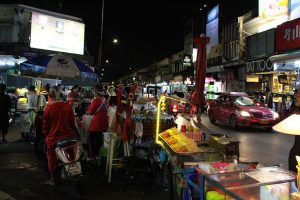 That contradicted what was said by Sakoltee when he suggested that sidewalks of streets in the area have to be cleared for pedestrians, and sellers could be moved into marked positions in the road.
It's not just Khaosan Road that would be affected, but several others in the vicinity. That includes Tanao Road, which for now is made even more chaotic when all the Khaosan vendors are pushed onto it after 8pm.
Sakoltee also said he wants a designated emergency lane.
Conflicting Message
Yada Pornpetrumpa, president of Khaosan Road Vendors Association, faulted the authorities Wednesday for making new rules without any communication with the vendors who will bear the brunt of them.
"I was there when Sakoltee came to inspect the area about a month ago. I asked him to consult with us beforehand if any reorganization is to happen, and he promised he would," she said. "But then he just ordered it, saying on Aug. 1 they will enforce the policy."
She said the details were elusive, and the order has not been documented in writing. But from what she's heard in the news, Sakoltee's plan sounds confusing and impractical.
"He said he wants an emergency lane but will move sellers into the streets. In what way is that sensible?" she said. "And what sort of trouble is made by people who sell during the day? Why do you have to chase them out and force them to sell only at night? They should move out those tuk-tuks and taxis loitering in vain."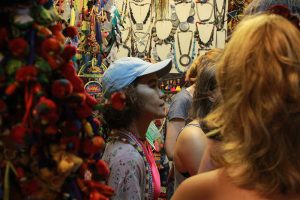 Natcha Aree, a jewelry shop owner, said she heard the authorities are trying to make shops in the area open only from 6pm to midnight, which she doesn't feel is right.
"We are trying to make them realize that tourists are coming here to shop, and they don't shop only during the night," she said. "They've tried this several times already, and we also try to regulate things by ourselves [to keep the authorities away]. I feel quite uneasy this time."
City Hall set its sights on Khaosan Road early last year. After announcing it would clear the streets of vendors as it had done with several other popular street markets, officials backpedaled and in March 2017 declared it would be exempted due to its status as a global tourism draw.
The deputy governor cited his recent inspection and unspecified complaints Tuesday in City Hall's reversal.
Crowded Out?
Yada, who heads the vendor association, said law enforcement officers deserve much of the blame as they own some of the very carts choking the street. Moreover, she said they are illegally hiring foreign workers to run them.
"The police want us out of the area from 8pm to midnight because there are too many of us, but as we've reported many times, this is caused by carts that belong to officers hiring foreigners to sell things for them," she said. "There's a rule … that you can't do this."
Foreigners are not permitted to work in retail, according to labor regulations, which also prohibits them from becoming vendors. Yada said no action has been taken on their complaints.
Read: Vendors Petition Gov't to Allow Foreigners to Work in Shopfronts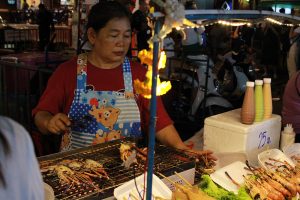 Sunisa Sampan, who's been selling food here over 15 years, said the amount of food carts has become overwhelming and diminished her income. She also blames part of it on illegal foreign workers.
"Those who used to sell clothes are now getting into the food cart business because they saw we make good money," she said. "And police also hire [foreigners] to sell for them. There're only a few Thais around here. They have the authority to pull this off."
Although disappointed by how the administrators have dismissed their concerns, the association president still hopes for a constructive discussion before the rules come into effect.
"Before enforcing any regulations, they need to talk to people in the area to establish what are the real problems first and support them," Yada said. "They shouldn't do things just to satisfy a couple of entrepreneurs. We'll have to fight them off, gradually. We've always tried to improve this place by ourselves."
Related stories:
In Reversal, City Won't Spare Khaosan, Chinatown Vendors
Heavy Regulation – Not Total Ban – for Street Food of Chinatown, Khaosan
See Bangkok Before and After Street Food (Interactive)
Khaosan, Chinatown Street Markets Permitted to Stay
This is What Saphan Lek Looks Like Now (Video)
Imagine Bangkok 2016: Better City, Less Life?