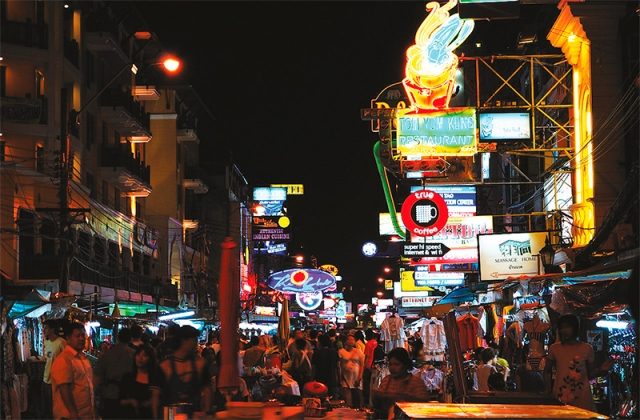 BANGKOK — Vendors in the famed Khaosan Road area will have to follow new regulations next month meant to return sidewalks to pedestrians, City Hall said Tuesday.
A year after the world-famous district was spared from a long campaign to clear the capital's streets, a deputy governor said stricter regulations would go into effect Aug. 1 to prevent street vendors from occupying spaces meant for pedestrians.
"I led Bangkok administrators to inspect the area about two or three weeks ago and found almost all pedestrian paths occupied by vendors, massage chairs and tables from restaurants and bars," Sakoltee Phattiyakul said. "The crowd had to walk in traffic lanes instead. If there's an accident, or a fire breaks out in this area, there will definitely be casualties."
The streets subjected to the new regulations are Khaosan, Ram Buttri, Tanao and Sip Sam Hang roads, as well as all alleys connecting them.
Sakoltee said City Hall will also order building owners to clear the sidewalks, while the Phra Nakhon district authority will be assigned to discuss solutions with vendors.
The vendors may be offered space elsewhere. In previous efforts, the city has ordered vendors out of popular areas and offered space at hard-to-reach locales far from the original location.
Sa-nga Ruangwattanakul of the Khaosan Road Business Association said the vendors would welcome the change if regulations are clearly articulated and enforced.
"I'm not quite sure if they'll be able to do it as they said," he said. "But we would be happy for a reorganization. It's very messy these days."
He said some regulations, particularly for those serving food, are a good idea.
"There's no measures regarding cleanliness or the safety of those gas tanks coming freely in and out of the area," he said. "We don't know if one day some will explode."
He added that despite the announcement the rules will be in place in two weeks, the association hasn't been informed what they will be. Perhaps, he said, they might just be moved off the sidewalks and into marked spaces in the road.
Still, he's waiting to find out if the city will set a meeting with the local stakeholders.
In his announcement, Deputy Gov. Sakoltee said public works officials will conduct inspections to see if any structures are in violation of building codes and order space set aside for an emergency lane.
The four-year campaign initiated after the military government came to power has been controversial. For some, it is a long overdue effort to eliminate nuisances and eyesores. Others see the elimination of bustling street life as scouring the city of its character.
City Hall's clearance of street sellers from Siam Square in 2016 was widely popular, while the decision to shut down busy street markets at Pak Khlong Talad, Khlong Thom and Saphan Lek were faulted for diminishing the city's chaotic charm.
Officials have stayed the course in redevelopment of public areas.
"The people have been quite satisfied with Bangkok's policy of reorganizing sidewalks and street vendors," Sakoltee said "I have to say that it's difficult to enforce the rules 100 percent in some areas… because we have much fewer officers compared to the offenders, but we will try to do the best during our term."
He said the city would move on to Yaowarat Road, another area the city previously said it would exempt because it was popular with tourists.
Related stories:
City Hall Claims Victory in Central Lardprao Sidewalk War
Heavy Regulation – Not Total Ban – for Street Food of Chinatown, Khaosan
See Bangkok Before and After Street Food (Interactive)
Khaosan, Chinatown Street Markets Permitted to Stay
This is What Saphan Lek Looks Like Now (Video)
Imagine Bangkok 2016: Better City, Less Life?