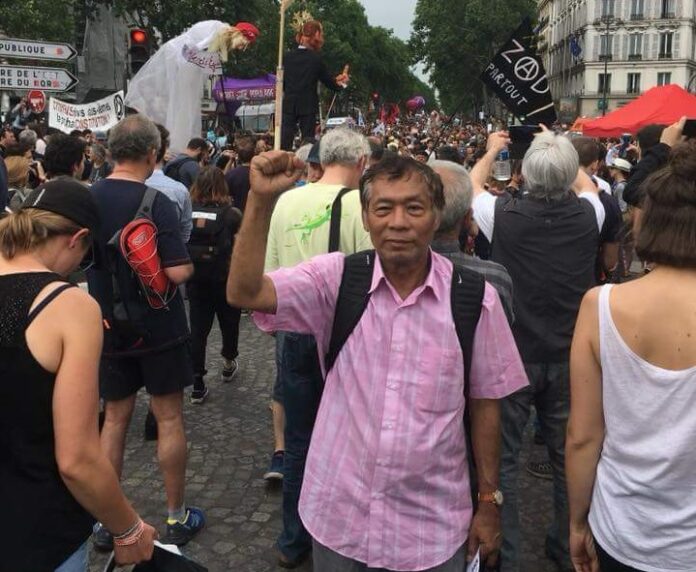 PARIS — A former Redshirt leader said Tuesday that a French association to oppose the junta and promote democracy formed last week will facilitate international campaigns opposing the military regime.
Speaking on the phone from Paris, co-founder Jaran Ditapichai said the Democrats Without Borders, or Democrates Thailandais Sans Frontieres association, registered Sunday, would help lobbying campaigns from Europe and beyond, to protest the military junta's dictatorial rule.
"It's more convenient to deal with various organizations and be in parliamentary committees [in France and the European Union]. There is a recognized status, but it won't be easy because there have to be many members," Jaran said.
Jaran, 71, who fled to Paris after the May 2014 coup and gained French citizenship last year, formed the association with another two exiled Thais. He said Thais in political exile used to campaign under their own name and that the formation of an association will add weight to their work to free Thailand of the junta, formally known as the National Council for Peace and Order.
A former National Human Rights Commissioner, Jaran said his name and that of another co-founder, Charun Chouchai, make people think twice before joining the association. Both Jaran and Charun are fugitives who not only faces various charges of disobeying the junta's orders, but also of lese majeste.
The former Redshirt leader said he would invite representatives of Thai political exiles in Europe to meet in Paris next month and discuss its policies and short and long-term goals. He said he will try to convince the EU to send election observers to Thailand if the junta holds polls slated for February 2019.
Jaran believes that despite parliament's upper house having to be selected junta leader Gen. Prayuth Chan-ocha – as stipulated under the junta-sponsored charter – having an elected government that potentially lasts a full term will change political dynamics.
Though the military has been in power since 2014, Jaran said the anti-junta mood remains limited among Thais. He added that the association's membership fees would likely be 25 euros yearly, except for those who can't afford it. Jaran said Thais in Thailand are welcomed to join.
"The sentiment [to oppose the junta] is still low," Jaran said, adding that the newly-formed association will have to do more than just criticize the junta in the international arena to remain relevant.
He said forming the association after rapprochement between the EU and the Thai military regime since late last year was a difficult task.
Jaran accused Germany of lobbying the EU to change its stance toward Bangkok to resume normal trade relations with Thailand after three years of cold treatment.
"I don't know if we will succeed but, we will be go ahead and talk with Thai exiles and Europe and ask what must be done."
Asked if the newly-formed association poses a threat to the junta and its relations with Europe, junta spokesman Col. Winthai Suvari said he had yet to be informed about it.
"We really have no comment, we have yet to learn about it," Winthai said Wednesday by phone.