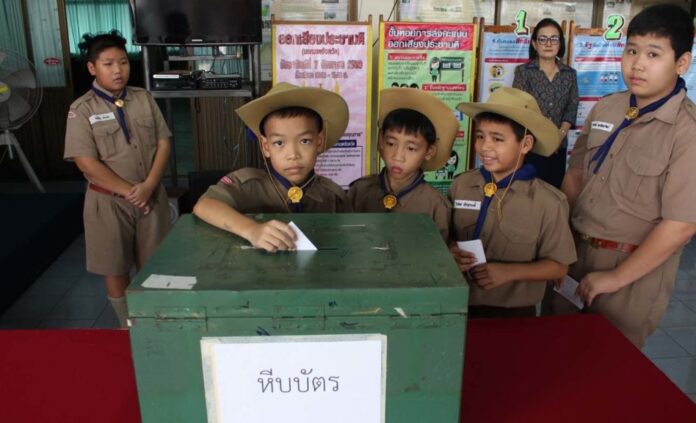 BANGKOK — The government announced Wednesday that His Majesty the King had formally approved the new set of Election Commissioners.
The endorsement, which King Vajiralongkorn signed Sunday, meant the current commissioners had to cease working immediately. It also ended a spat between the outgoing officials and the 36 junta-appointed lawmakers who challenged their role in selecting hundreds of poll inspectors to monitor the next election.
Kittisak Rattanawaraha, one of the lawmakers behind the challenge, said Thursday that the group agreed not to pursue the matter because another set of Election Commissioners is now in charge. He also said his faction listened to the public's opinion.
"This retreat isn't something to be embarrassed about, because we listened to society's voice," Kittisak told reporters. "If we know that society won't accept us moving ahead with it, we shouldn't do it."
The lawmakers had argued that the interim parliament should have the right to select the poll inspectors.
The five new commissioners, led by chairman Ittiporn Boonprakong, will report to work Friday.
Ittiporn was a diplomat and former director general of the Treaties and Legal Affairs at the Foreign Affairs Ministry. He was voted chairman by the other commissioners and approved by the junta-appointed National Legislative Assembly, or NLA.
The four others are Suntud Siriranuntapiboon, Tawatchai Lertpaothai, Pakorn Mahannop and Chatchai Chanpraisri.
None is particularly well known, nor are their political allegiances.
The NLA will have to approve two more commissioners but the agency can start work right away because five members will be enough for a quorum.
Suntud was a former lecturer of environmental technology at King Mongkut's University of Technology Thonburi.
Tawatchai was a former governor of a number of provinces including Saraburi. Pakorn and Chatchai were supreme court judges and nominated by the court.
Additional reporting Teeranai Charuvastra