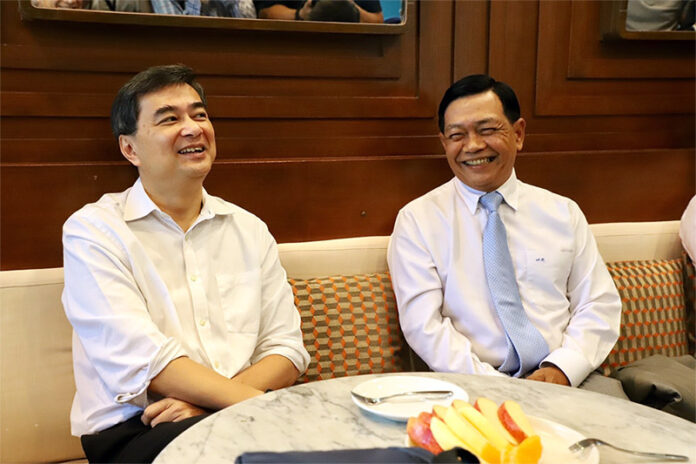 BANGKOK — A former Phitsanulok MP is expected to become the third candidate seeking to lead Thailand's oldest political party when he announces his candidacy Thursday.
Warong Dechgitvigrom will join former deputy leader Alongkorn Pollabutr in competing for the top Democrat Party post against longtime incumbent Abhisit Vejjajiva. Warong is vowing to make the party a winner again while Alongkorn insists it take a no-tolerance approach to corruption and vote buying.
Observers see Warong as close to the insurgent wing of former Democrat Suthep Thaugsuban which helped usher in the coup four years ago through street protests. Alongkorn served on one of the junta's defunct reform bodies.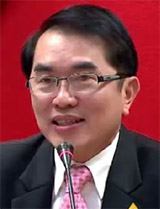 Warong will formally launch his candidacy Thursday in Phutsanulok province. Alongkorn, 61, has thrown his hat in the ring but is refusing to fully declare until the rules are clear regarding the party's first-ever primary vote to settle the leadership question later this year.
He met today with 54-year-old Abhisit, who's led the party since 2005, at its Bangkok headquarters to discuss the matter.
The two have agreed that all three candidates should air their vision for the party this weekend, either on Saturday or Sunday.
Alongkorn said Abhisit is open to the idea of a primary in which one candidate will be singled out for party approval. A new leader should be in place by the middle of November, Alongkorn said.
Alongkorn said he is ready to compete, subject to agreeable rules.
His policies include no vote buying, no mudslinging, no fighting outside the democratic system and no corruption.
Warong, 57, is best known for pushing for the prosecution of then-PM Yingluck Shinawatra for mishandling of an agricultural subsidy. He's close to Thavorn Saenniam, a key figure in the group behind street protests five years ago that helped overthrow Yingluck's Pheu Thai-led government.
The Democrats haven't had a popularly elected prime minister since 2001 as Pheu Thai has won every poll since by wide margins.
Warong said he wants to make the Democrat Party great and strong and to win in elections. Without being under anyone's control.
"There's no hidden agenda," he said.
Reached Tuesday for comment, Warong said he was preoccupied and handed the phone to Sombat Yasin, a former Democrat peer representing Phrae province.
Sombat denied that Warong and the group represent pro-junta Suthep or anyone in particular. Asked whether Warong, were he to become party leader, would consider supporting junta He said it was too soon to say whether he would support junta leader Prayuth Chan-ocha's bid to remain prime minister.
"Whether we support Prayuth or not, the matter is too far ahead. We can't look down on the people. If we win by a landslide, say 350 MPs, then Warong should be the prime minister," Sombat said.
Sombat said Warong and about half a dozen former MP peers want to open up the Democrat Party to new talents and outsiders.
"We won't compare ourselves to His Excellency Abhisit, but we will open up the party to able people," Sombat said.
Sombat said the party will meet Wednesday to discuss rules for selecting the new leader.
The latest proposed system would require candidates get endorsements from 400 former MPs as well as 1,000 party members drawn from each of the four regions to become party leader.