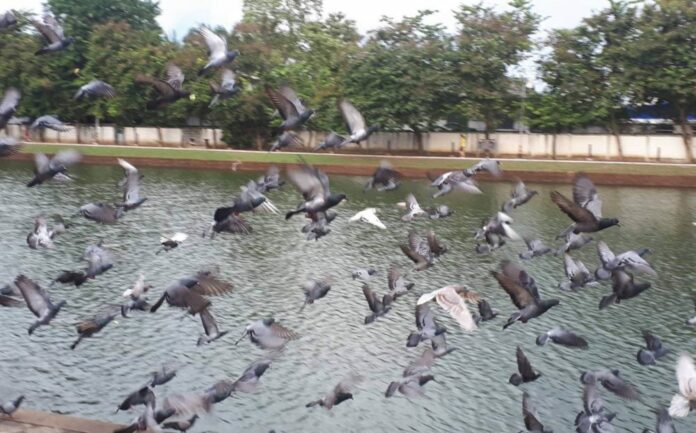 BANGKOK — City Hall is pushing forward the mass eviction of its pigeon population despite doubts it is effective, including one expert who points out they'll just fly back.
Deputy Gov. Taweesak Lertprapan on Monday said signs have been put up telling people not to feed the birds as livestock crews scour pigeon-plagued spots, and a mere 200 Bangkok pigeons have been transported to facilities outside of town in a bid to reduce their numbers.
He said the city will move against flocks in more overpopulated areas later this month and later move them to a new city-built detention and quarantine facility in the works.
According to health officials, some of the 200 birds were found to have bacteria that causes a respiratory disease that can develop into pneumonia.
The city has said the pigeons will be released after they are disinfected, a strategy a university biologist says fails to take into account pigeon's strong homing instincts.
"If you don't release them far enough, they'll just fly back," said Jessda Denduangboripant of Chulalongkorn University, adding that they have evolved to city life and are no longer wild. "Pigeons are city birds, like sparrows. They're not birds that contribute to the fertility of forests."
The deputy governor however believes that life in the city has made them lazy and hopes they'll find somewhere else to resettle.
"There's information suggesting that they've now become city birds … and can't fly as far as they used to," he said. "If they migrate to nature, in a forest or a national park, they won't fly back [to the city]."
Kriangsak Hamarit, a Kasetsart University researcher, in June cited research that found a Bangkok pigeon flew home from Ranong province, 600 kilometers southeast of the capital, within a month.
The latest purge of the capital's rock doves was set off last week by junta leader Prayuth Chan-ocha's order that local authorities nationwide to step up their bird-control game, citing health concerns.
Does all the coo-ing mean health troubles are brewing? Not really, according to a top veterinarian.
Srireepong Kiertkrittikhoon of Chulalongkorn's Small Animals Hospital said human health risks from pigeons come from bacteria in their droppings that can cause fungal infections.
But the risks of a pigeon-borne epidemic would only be moderate to vulnerable populations such as the elderly.
"It would be people with weak immune systems [most likely to fall ill] such as children and seniors. There's a chance of an infection that can cause meningitis," he said. "People who are healthy in general would be fine."
Feeding the Problem
Jessda, the biologist, said limiting the birds' food intake by stopping people from feeding them is the most effective solution offered so far.
Deputy municipal leader Taweesak said signs in different languages have been put up in all public parks to discourage bird feeding, with health workers dispatched to tell people why they should not. Travel agencies have been instructed to tell tourists that feeding birds is not allowed.
"They're spoiled from the feeding and won't seek food on their own," he said.
Feeding birds was already punishable under public health regulations by up to three years in jail and a 25,000 fine, plus another 2,000 baht for violating cleanliness and order codes. Those selling bird food without permission face up to six months in jail and a fine of 10,000 baht for violating livestock regulations.
Even if the released pigeons didn't come back, Jessda said it would leave an ecological niche for other birds to move into, especially if people keep providing food. For example, he said, doves once occupied a natural habitat but are more often found in cities now.
Either way, he believes catch and release is doomed to fail.
"Many years ago, City Hall also tried to catch the birds and release them somewhere else," he said. "This measure alone won't work."
"To effectively [decrease their numbers] people should learn why they ought to stop feeding them," he added. "The birds carry a lot of diseases. They have parasites both inside and outside their bodies."
Related stories:
Storm of Feathers as Bangkok Pigeons Feel the Heat