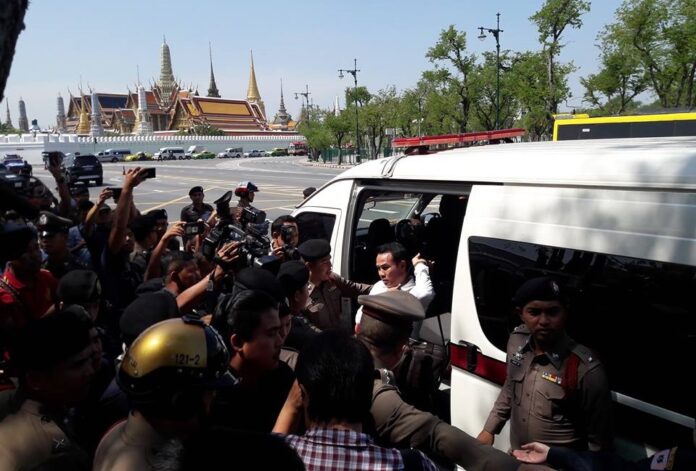 BANGKOK — Police arrested a businessman and handed him over to military custody Thursday before he could submit a petition to His Majesty the King's aides.
The man, later identified as Suwaroj Chawanunthanaphokin, was arrested shortly after he arrived at the City Pillar Shrine and taken away in a police van. Suwaroj had said he would ask the monarch to remove junta chairman Prayuth Chan-ocha and replace him with a provisional government prior to the next election.
Chanasongkram Police Station chief Chakrit Chosoomuang would not divulge any details about the arrest other than saying Suwaroj is now under military authority.
"The soldiers took him away," Col. Chakrit said, adding that soldiers accused Suwaroj of violating the junta's ban on political gatherings.
In a Sunday interview with exiled reporter Jom Petpradab, Suwaroj said he planned to petition King Vajiralongkorn on Thursday to install an interim government in place of Gen. Prayuth to govern the country before the upcoming election, scheduled to take place in February.
Suwaroj attributed the idea to former prime minister Chavalit Yongjaiyuth, who proposed at a news conference last week that a "national unity government" be formed to steer the country from political conflicts.
Anti-coup activist Ekachai Hongkangwan expressed surprise at the news of Suwaroj's arrest because he submitted a similar petition to the palace in November 2017 without any incident.
"It's been almost a year now, but they never sent me any reply," Ekachai said by phone.