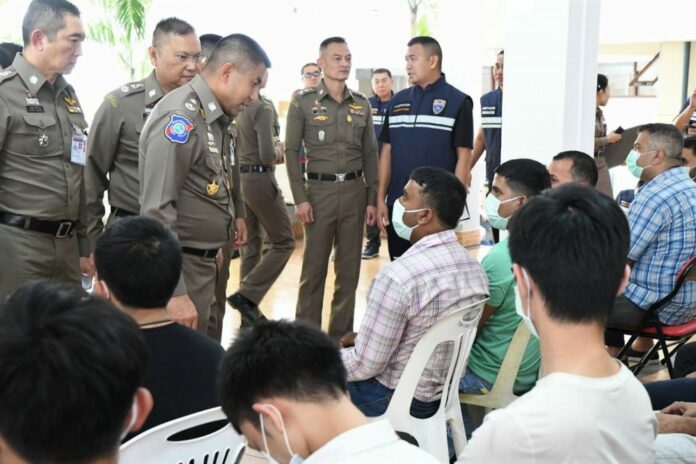 BANGKOK — Police arrested dozens of foreigners Thursday for illegally working in Thailand as the newly-appointed immigration chief promised a tough crackdown.
Moving on from his almost-weekly ritual of rounding up foreigners overstaying their visas, Maj. Gen. Surachet Hakpan today said 59 people – Thais and foreigners – accused of being involved in illegal employment were arrested in the capital's Nana area and Khaosan Road.
Read: Cop Behind Foreigner Crackdown Gets Top Immigration Job
Thirty-five of those arrested were Burmese. There were also six stateless people, five Chinese, four Bangladeshis and a few from Syria, Egypt, Pakistan, Nigeria and Palestine. Four Thais were charged with illegally employing foreign nationals.
The foreigners would be revoked of their resident permits and deported, according to Surachet, who officially took over the commanding position Monday at the Immigration Bureau.
Maj. Gen. Kritsakorn Pleethanyawong, deputy immigration chief, said the stateless people would be put through an authentication process to determine their home country before being deported. He added that ethnic minorities would be sent back to their registered area, or assigned one, and barred from leaving.
Stateless people with resident permits have the same working rights as Thai people. However, they can't work outside their registered area – or even leave – without authorization.
Surachet said he had instructed immigration staff countrywide to actively monitor foreigners residing in their areas and arrest those working illegally – including foreigners setting up businesses using Thai people as proxies to avoid tighter regulations.
In a related case, Surachet said two police officers from the bureau were under investigation for allegedly conspiring with those helping foreigners forge financial documents needed for resident and work permits. He vowed severe punishment for the two if found guilty.