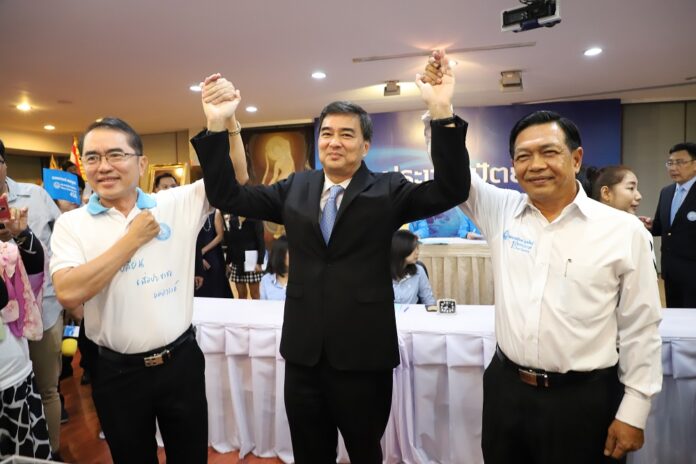 BANGKOK — Former Democrat Party chairman Abhisit "Mark" Vejjajiva launched a social media campaign Tuesday in a bid to defend his seat from two party contenders.
The former prime minister urged followers to use the hashtag #MakeMyMark to show their support for him in the three-way race, to be decided in a Nov. 5 vote. His challengers, former MP Warong Dechgitvigrom and former deputy leader Alongkorn Pollabutr, also announced their own campaigns.
Speaking to reporters, Abhisit said the slogan isn't about himself but also meant to encourage young people to make their mark on the world.
"It has a lot of meanings. It's not about my name," the 54-year-old said. "It's about expressing yourself and participating in the changes."
While Abhisit appears to be aiming for the younger voters, Warong outright employed the traditional way of campaigning: supernatural power. Warong told reporters he recently prayed at a temple in Ubon Ratchathani province where a monk predicted he would win the race.
For good measure, the monk also gave him several charms and amulets as blessing, Warong said.
In secular terms however, Warong promised to reform the Democrat Party by granting more power to regional chapters, pushing for reconciliation and pressing ahead with anti-corruption agendas.
"We will ease conflicts and division among the people," Warong wrote online today.
Alongkorn, who sat on a junta reform body until last year, said he would detail his platforms at a Wednesday news conference. He also told reporters he would start campaigning in Khon Kaen province.