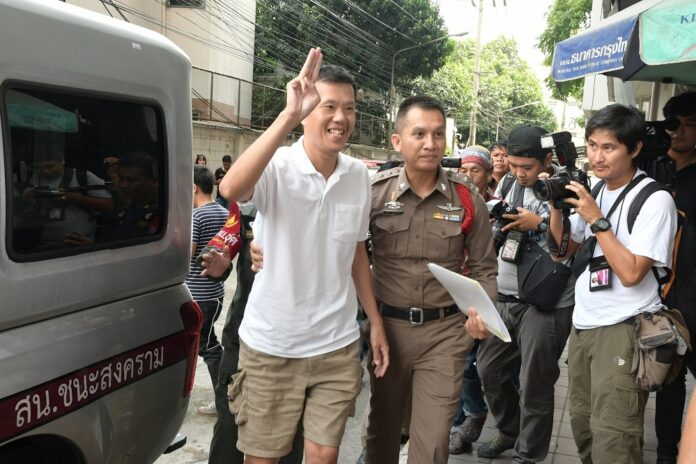 BANGKOK — The military junta will file a police complaint against two pro-democracy activists for allegedly filing a false police complaint against the new army chief, an unidentified source from the junta said Monday.
The junta instructed its legal officers to report to police that Ekachai Hongkangwang and colleague Chokechai Paiboonratchata filed a false complaint alleging Gen. Apirat Kongsompong had committed treason. The activists went to the police Friday after Apirat said at a press conference that he couldn't commit to not staging a coup if there are riots after elections slated for February.
"I am not surprised and this was expected," Ekachai said about the complaint against him and Chokechai. "If they let this slide, there will be others making the complaints so they have to extinguish the fire at its source."
Ekachai and Chokechai filed the complaint on grounds that Apirat violated Article 113 of the penal code, which criminalizes treason. The offense is punishable by death or life imprisonment. Ekachai on Tuesday denied having falsely accused Apirat or tarnish the image of the armed forces.
Anyone guilty of filing a false police complaint faces six months in prison or a fine of 10,000 baht, or both.
Apirat, who made the remark on Oct. 16, is also ex-officio secretary of the junta, formally known as the National Council for Peace and Order.