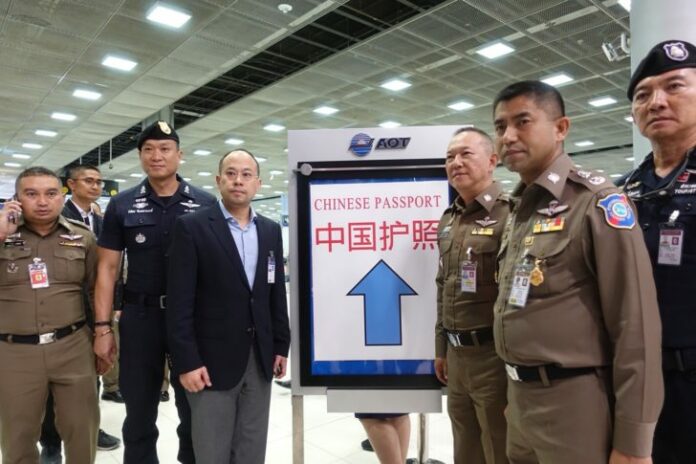 BANGKOK — Two people were arrested for sharing fake news from a Youtube video saying the government was to reduce tourist visas for Chinese nationals because it ran out of paper, police said Monday.
The immigration police chief said Nathawut Ruayprasert and Napatsawan Kiatvimol were charged with disseminating online fake news by posting the video clip to their Facebook accounts earlier this month.
"Before posting or sharing any information, please verify it directly from the source," Maj. Gen. Surachet Hakpan said, adding that sharing false information could harm the country's security and economy.
Both suspects face up to five years in prison and a maximum fine of 100,000 baht. YouTube account owner Chanin Udomsrirat, who translated the clip from Chinese and posted it in December, would be charged with importing fake information under the Computer Crimes Act, Surachet said.
The video, which appeared to show a news presenter speaking in Chinese, was uploaded by the account "johny shoot2china." It was subtitled in Thai and titled "The reason for the reduction of Chinese tourist visas… You'll be shocked."
According to the subtitle, the man said the Thai government had reduced the quota of tourist visas to Chinese nationals because of visa paper shortage, forcing scores to apply for visas on arrival at Thai airports.
Nathawut, one of the accused, said during the press briefing that he only shared the clip because he wanted to know if it was true, and said he was picked up from home by a police car.
On Oct. 11, the Foreign Ministry released a statement saying there used to be a shortage from September to November last year, but that it did not affect services as paper visas could be substituted with stamps. It also said the Thai embassy and consulates in China do not impose visa quotas.
It added that Chinese authorities had prosecuted those responsible for releasing the fake information.
The clip further accused Thai airport staff of extorting bribes from Chinese tourists to fast-track visas on arrival, demanding 200 baht to 300 baht each time.
The issue was raised three weeks ago after a Don Mueang airport security guard was caught on camera throwing his fist at a Chinese tourist, an incident allegedly triggered when he refused to pay the bribe, something later denied by airport authorities.
However, top Don Mueang immigration officers – including the chief – were transferred about a week later after being accused of instructing others to refuse visas to inbound tourists unless they paid "tips."
Surachet yesterday acknowledged that the number of Chinese tourists to Thailand had decreased due to several mishaps such as tourist scams, cheating taxi drivers and tragic incidents like the ferry accident in Phuket which killed almost 50 Chinese nationals in July.
He said he has been working closely with Chinese authorities regarding problems in tourism, and that the government had ordered him to step up safety measures and standards for tourists in Thailand.
Related stories:
Airport Immigration Head Transferred for Demanding 'Tips'