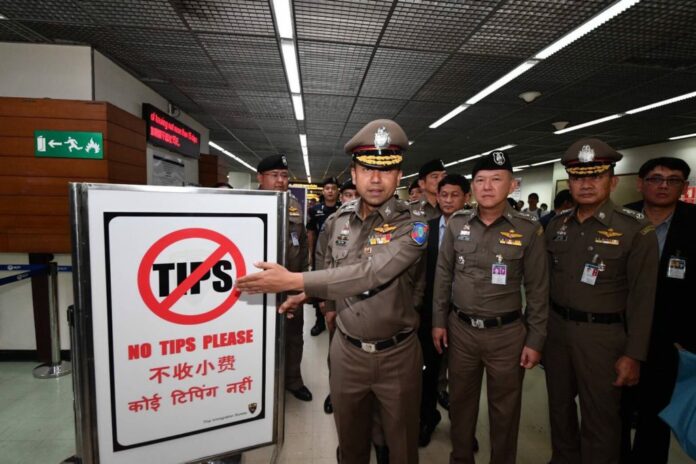 BANGKOK — The police officer in charge of border control at one of Bangkok's international airports was removed and placed under investigation for allegedly extorting bribes from Chinese tourists, the immigration commander said Monday.
Col. Janchai Daengprasert was accused of ordering officers to request "tips" from inbound tourists at Don Mueang Airport, who would not be granted visas unless they paid up. Immigration police chief Surachet Hakpan said his office talked to one of the victims and established that the allegations appear to be true.
"I have already talked about this. As long as there's wrongdoing, it's considered a violation of our rules," Surachet told reporters. "It's like in sports. If you know the rules and still break them, you'll be forced to sit outside the field."
Janchai and three of his deputies were transferred to inactive posts while an investigation against them is ongoing, the police major general said.
The order came after a Thai complained on social media that his Chinese friend was held at immigration for six hours because he refused to pay 200 baht in "tips" for his visa on arrival.
On Surachet's order, signs proclaiming "No Tips Please" were installed at Don Mueang Airport immigration queues.
It's the latest scandal to hit Don Mueang Airport. On Oct. 1, the airport's general manager and security chief were relieved from duty after a security guard was filmed assaulting a Chinese tourist.