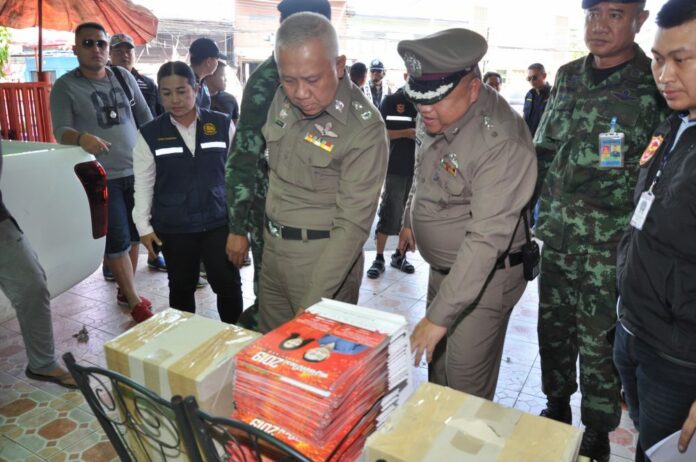 BANGKOK — Using emergency powers granted by the junta, soldiers and police confiscated piles of calendars Tuesday from a home in the northeast.
The 2019 calendars, which bear the images of former prime ministers Thaksin and Yingluck Shinawatra, were seized in Ubon Ratchathani province as potential evidence in an investigation to see whether they break any laws, police said. The raid took place just as a police commander said he had ordered the force to monitor distribution of the calendars.
Sarawut Chanthadee, resident of the home raided by the security forces, said soldiers told him that their policing powers under Article 44 of the junta-sponsored constitution had been invoked to search his residence without a warrant.
Article 44 of the previous charter, enshrined in the current constitution, gives junta leader Gen. Prayuth Chan-ocha sweeping extralegal powers.
Sarawut said the raid frightened his 2-year-old son.
"When my son saw so many officers, he was upset and couldn't stop crying," Sarawut told reporters. "I was upset, too."
Police said they found 10 crates of calendars. They were taken to the Warin Chamlap Police Station for further examination.
Sarawut claimed he doesn't know who sent him the calendars. Police are expected to question him later today.
In Bangkok, two student activists protested the latest crackdown on imagery related to the Shinawatra siblings, who retain strong influence in politics, especially the Redshirt movement.
Standing in front of the Ministry of Defense building, Parit "Penguin" Chiwarak and his friend Tanawat Wongchai offered to give the army commanders one of the calendars so they wouldn't have to raid civilian homes for it.
When no government official came out to meet them, the pair left the calendar on the sidewalk.