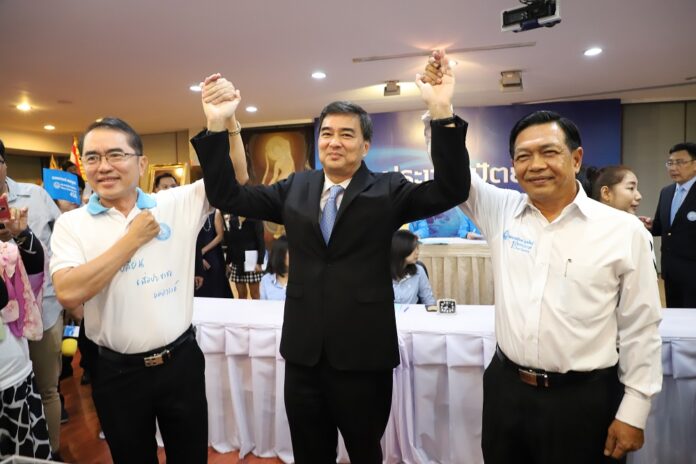 Saturday 12:21pm update: Party spokeswoman Kanjana Dhokmai said party members were in a meeting and would announce the results within Saturday.
Update: The party announced Friday evening it plans to announce the results at 10am on Saturday.
BANGKOK — A three-way contest for the Democrat Party's top post is expected to conclude Friday evening, and party officials say preliminary results could be available as early as tonight.
The race, marked by fierce campaigns and delayed by technical mishaps, is expected to chart the direction of Thailand's oldest and largest political party. Supporters of the incumbent, Abhisit Vejjajiva, are hoping he will fend off challenges from those seeking a break from the past.
Party members were asked to choose between Abhisit, Warong Dechgitvigrom and Alongkorn Pollabutr.
Promising to usher in "clean politics," Alongkorn said that if chosen to lead the party, he would not support a prime minister who wasn't elected to the parliament, a path to power expected to be pursued by junta leader Prayuth Chan-ocha.
Warong said he would oppose working with parties that engage in corruption or insult the monarchy, a seeming rebuke of calls for the party to throw in with the rival Pheu Thai Party to break the military's grip on power.
Party members in the northeast and south cast votes Monday. Polls in the north, central and capital regions set for Nov. 1 were delayed until Friday due to an eight-day technical problem.
Party officials blamed glitches in their voting machines, which were somehow set to the British time zone where they were made. The system also crashed repeatedly on Monday in some voting districts.
Early results are expected within hours, but an official tally will have to wait till Saturday. The party will convene its assembly on Sunday to endorse the results.
Media pundits and analysts expect a smooth victory for Abhisit – a seasoned politico who in 2008 became the first Democrat prime minister in nearly a decade.
When a reporter asked Alongkorn on Thursday what he felt about the imminent showdown, he sighed before giving a reply.
"I was away from politics for four years," said Alongkorn, who served in the junta's reform steering assembly. "And I only had three weeks to campaign."