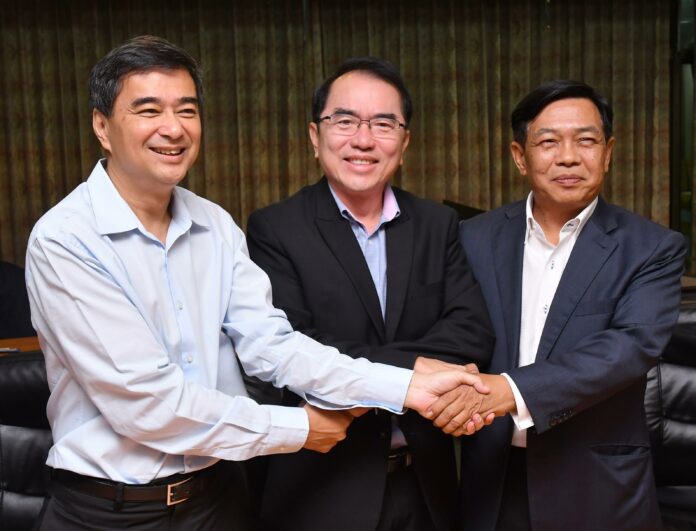 BANGKOK — Abhisit Vejjajiva won the Democrat Party leadership, the party's social media announced Saturday.
In a Facebook live video posted on the Democrat Party page, the party announced that the former prime minister won its primaries.
"Thank you, members and supporters of the Democrat Party in being part of this historic moment," Abhisit said after winning. "With this election, citizens nationwide can see that the democratic process is well and alive in the Democrat Party."
Abhisit won 67,505 of 127,479 votes in the three-way contest between him and candidates Warong Dechgitvigrom and Alongkorn Pollabutr.
Read: After Delay, Democrats to Settle Leadership Question Tonight
Warong, who said he would oppose working with any parties that insulted the monarchy, won 57,689 votes. Alongkorn, who said he "only had three weeks to campaign" when interviewed earlier about his winning prospects, won 2,285 votes.
"I'd like to congratulate party leader Abhisit in winning the primaries and for receiving the most trust from the most party members," Alongkorn posted in a message to the press in a Line group. "Dr. Warong also received a good amount of votes. Even if you didn't win, you should still be proud. And thank you everyone for giving me this opportunity."
At 6:20pm on Friday, the party's election commissioner Chumphol Kanjana apologized via Facebook for the delay in revealing the results, attributed to tallying errors for online votes. The party had initially scheduled to reveal the results Friday evening.
"There were so many votes coming nationwide. Some could be polled, and some could not. So we would like to apologize for that," Chumphol said.