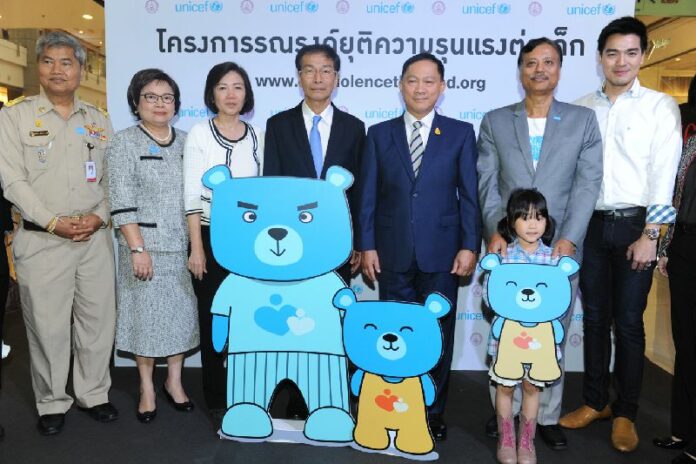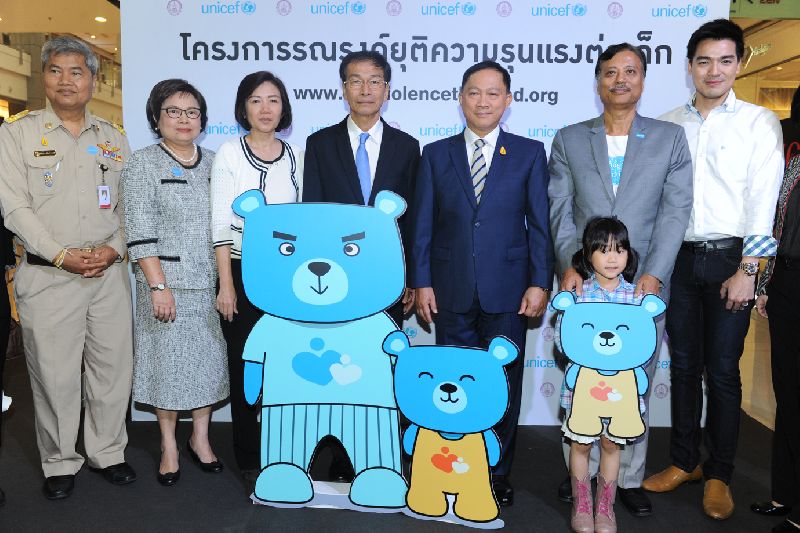 Note: This is a press release. Its contents are not produced by Khaosod English.
BANGKOK, 19 January 2015 – The United Nations Children's Fund ( UNICEF) and the Ministry of Social Development and Human Security (MSDHS) today launched the "End Violence Against Children" campaign aimed at creating awareness of the negative impact it has on children and urging Thai parents, caretakers and teachers to stop using any forms of violence against children.
According to several studies supported by UNICEF Thailand, violence against children regularly occurs in homes, schools, care centres and juvenile justice facilities.* A study found that more than 50 per cent of Thai children surveyed said they had experienced violent punishment by their parents, caretakers or teachers. Many children suffered injuries as a result and often believed it was their fault.
According to the Ministry of Public Health, which collected data from 631 hospitals in 2013, more than 19,000 children (or about 52 children per day) were treated in the hospitals due to physical and sexual abuse.
"Violence against children persists because it is often accepted by adults and the children themselves as part of life," said Bijaya Rajbhandari, the Representative for UNICEF Thailand." Violence against children is a serious problem in our society. It doesn't only harm the well-being of children, but it also undermines the productivity and prosperity of the country as a whole"
Violence affects children's physical and mental health in many ways, both in the short and long term, said Rajbhandari. Children who have suffered from violence have an increased risk of mental health disorders, depression, anxiety, self-harm and suicide. Violence impairs their ability to learn and socialize and increases the chance of them engaging in risky sexual behaviors and becoming violent adults.**
The End Violence Against Children Campaign which has the slogan "Parenting without Violence", urges parents, caregivers, and the public to change their attitudes and behavior by stopping all forms of violence and using a positive discipline approach to raising children. The campaign introduces an easy concept of "CUTE" which is Confidence, Understanding, Trust, and Empathy as the way to care for children.
Under the campaign, 30-second and 15-second TV adverts about the negative impact of violence will be aired on Thai television, while messages and parenting tips will be promoted through several communication channels such as posters, leaflets, roadshow activities, online at www.endviolencethailand.org and through social media with the hashtag #ENDviolence.
Pol. Gen. Adul Sangsingkeo, Minister of Social Development and Human Security said that "collaboration from all sectors is needed to address this issue The Ministry has introduced measures and policies as well as activities to protect children from violence including a good parenting scheme. At the same time, the public can call the One Stop Crisis Center (OSCC) on 1300 if they witness any violence against children."