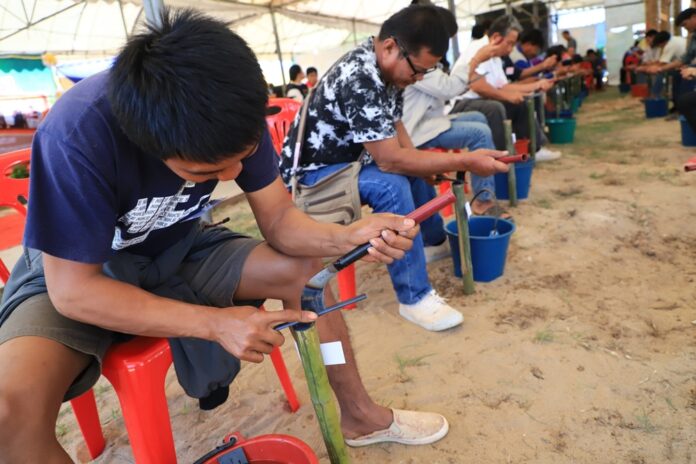 The following is a paid news release. Khaosod English is not responsible for its content.
BUENG KAN — Hosting the biggest rubber expo for the sixth year, Thailand's newest province, Bueng Kan, has proved that a young age cannot stop an ambitious city from becoming self-reliant.
Kicking off on Wednesday, the annual Bueng Kan Red Cross and Rubber Day event has continued its mission to enrich the knowledge and experience of their local rubber farmers and to open the door to trading opportunities. With this great effort and cooperation, the nearly seven-year-old province has become a role model for local empowerment.
At the opening ceremony, Deputy Interior Minister Suthee Makboon said the event has illustrated that Bueng Kan has a potential to be the leader of the rubber industry. The synergy between government and private sector in the past years, Suthee said, has proved to beneficial for its residents.
"Bueng Kan was just founded in 2011…but its income per capita has now become pleasantly higher," said Suthee.
Bueng Kan Helps Rubber Growers Succeed With Big Annual Fair
As the biggest rubber grower in the northeastern region, Bueng Kan aims to be the center of rubber industry not just in Thailand, but the Greater Mekong Subregion. Their strategy is not only to produce more natural rubber but to also add more value to the commodity by applying new innovations. The existing success is the rubber pillow plant which run by a local farmers cooperative.
Running for a week, the festival this year consists of a new technologies exhibition, workshops, talks and everything useful for rubber growers. Combining with the annual Red Cross Fair, there are also entertainment shows, lucky draws, shops, and beautiful agricultural displays.
"This event will stimulate economy of the province and generate income for our Bueng Kan folks who are now affecting from the fluctuation in rubber price," Bueng Kan Governor Pisut Bussayapanpong said Wednesday.
Joining the opening ceremony were delegates from China, Laos and Vietnam who aimed to initiate trade negotiation and knowledge transfer.
Director of the National Engineering Research for Rubber and Tire of China and the President of Mesnac Group Co., Ltd, Yuan Zhongxue, said he admired the collaboration of people in Bueng Kan province. Visiting the fair every year, he has witnessed its growth and was confident Bueng Kan would play a significant role in the regional rubber industry in the near future.
The festival will be held until Jan. 23 in front of the Bueng Kan City Hall.
This is a paid advertorial. Khaosod English is not responsible for its content or claims.