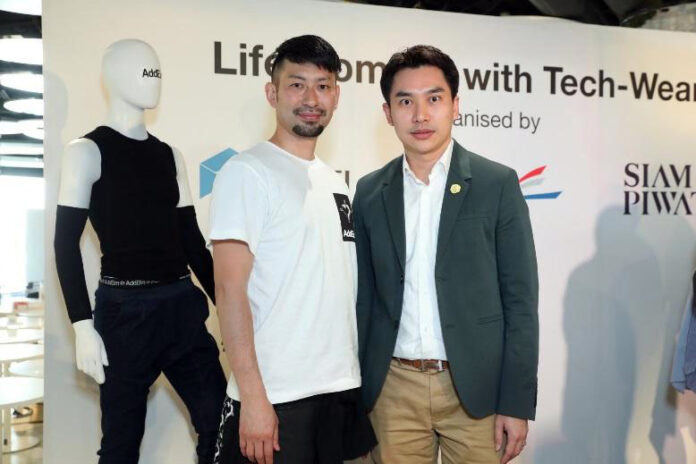 The following is a sponsored message.
To promote modern textile and apparel innovation and Thailand's position as the industry hub of Southeast Asia, Japanese and Thai ministries along with a Thai developer hosted an exhibition called "Life Comfort with Tech-Wear" to showcase garment and textile technology that elevates comfort in life last week at Siam Discovery's The Exploratorium.
The hosts were Japan's Ministry of Economy, Trade and Industry; Thailand's Department of International Trade Promotion and Siam Piwat.
"For the textile and apparel industry, Thailand has the potential in design and also the advantage of diverse materials, especially textile that has various different qualities," said Japanese textile expert Mr. Ken Sugimoto. "Similar to Japan, boundless advancement of innovation and technology allow us to utilize textiles in new dimensions. This exhibition is presented to create awareness among Thai consumers in realizing the value of new textile innovation from both Japan and Thailand. We also hope that this exhibition will inspire those in the textile industry to take innovative textile and create new products or add value to their existing products. We are happy that we can help support Thailand to become the hub of multi-functional textile in ASEAN."
"Thailand and Japan have closely collaborated on Textile and Apparel for an extended period of time to jointly develop the products and enhance entrepreneurs in the industry. The collaboration also aspires product development to become functional and brings about co-marketing strategies. This exhibition is very useful for those in the textile industry as it shows and sheds new light on clothing innovation that can practically add value to their products and boost the potential of Thailand as the leader of garment production in ASEAN that still needs textile products from Thailand," Dr. Worawut Somwangprasert, head of the Fashion Business Development Section in the Office of Lifestyle Trade Promotion at the Department of International Trade Promotion.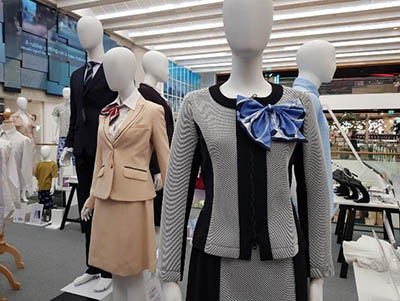 Mr. Kriangkrai Rukachantarakul, deputy managing director of Siam Piwat Retail Holding, said, "As the leader in retail and management of world-class shopping malls like Siam Center, Siam Discovery, Siam Paragon and Icon-Siam, Siam Piwat is also the purveyor of state-of-the-art creativity and avid supporter of innovation and technology because we strongly believe that they lead to betterment of our lives in the society we live in.
"Therefore, we are delighted to support "Life Comfort with Tech-Wear" exhibition at Siam Discovery – The Exploratorium – Thailand's first hybrid retail store. This exhibition aims to show modern and advanced textile technology that Thai textile industry has never seen before and will become a new solution for Thai consumers."
Mr. Hideki Kawai, Project Leader of Itochu Fashion System Co., Ltd, explains that, "Projects concerning textile technologies normally take a long time to research and develop. Most new discoveries are incorporated in the fabric to maximize our comfort and convenience, for examples, fabric that are cooling in the summer and warm in winter, textile that is crease-resistance that does not requires pressing or the fabric that enhances our mobility, flexibility and movement.  When we work out and exercise, we use strength from our body to perform, and enhanced with this innovative fabric in the garment, our performance is supposed to be better and more efficient. This kind of fabric is also showcased in the exhibition."
The event also included a seminar under the topic "Function Plus Fashion" by Associate Professor Dr. Anothai Cho, textile expert from Kasetsart University, who observes that, "Many consumers think that fashion goods are purchased according to buyers' impulse and fashion trends, but we can also add functions to these products. We have worked with leading designers from brands like ASAVA, ISSUE, CLOSET, 6PM and others to turn function into something fashionable on the runway, and it's a very new and refreshing concept to connect these two qualities. I believe that from now on qualities like durability, anti-bacterial and maximized comfort will be more incorporated with fashion.
"New generation designers now see the value of these innovative qualities that can add value to their design. One example is the fabric from JK that incorporates nano zinc and titanium in the fiber to create almost 100% anti-bacterial fabric that maintains its quality after many times of washing. Once you can get rid of bacteria in the fabric, the clothes tend to have less musty odor, making it an ideal material for sleeping gown, undergarments and uniforms for hospital personnel. Now we already have 100% silk nightgown and undergarment that is not only enhanced with anti-bacterial quality but also with collagen. When you go to sleep for eight hours, your skin maintains constant contact with this fabric that keeps the moisture on the skin with collagen."
"Life Comfort with Tech-Wear" showcases innovative textile products put together by 8 leading textile companies from Japan: undergarment producer As Corporation under the brand Steteo.com, sportswear producer Colantott, uniform producer Takisada-Nagoya, home decoration textile manufacturer TRIPURE JAPAN, sportswear and uniform producer Bonmax, easy-care silk producer Nihon Sanmo Dyeing, shirt maker Marumoshirt under the brand Wasedaya Shirts and Japan Textile Evaluation Technology Council, the organisation who provides SEK mark textile product certification system to ensure the quality of products.
The exhibition is divided in three zones: Fashion, Sportswear and Undergarment. The exhibits are all garment made from ultra-comfortable textile that maximizes wearers' comfort and mobility. Highlights include casual and work wear STETECO.COM with the use of traditional Japanese textile that is cooling and comfortable, made from light but not see-through textile, which is ideal for women's blouses and pants. There is also knitwear that stretches and looks like weaving textile, as well as washable silk blend with cotton from Nihon Sanmo Dyeing.