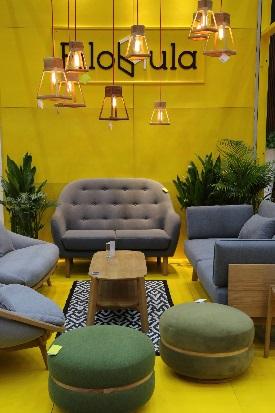 Ministry of Commerce aims to enhance Thai entrepreneurs' potential by showcasing latest creative designs and innovations to international buyers through "Innovation and Design Zone" at STYLE April 2018 between April 19-23
The Department of International Trade Promotion (DITP), Ministry of Commerce, ventures on with the "Creative Thailand" policy where innovative and unique lifestyle products of Thai entrepreneurs and creative designers are showcased to the world at Innovation and Design during STYLE April 2018, the region's biggest international lifestyle trade fair, between April 19-23, 2018.
As the world's economy evolved and changed, resulting in much higher competition that relies on efficiency to reduce cost, many countries around the world started to focus on developing an economy that is fueled by creativity. During the past few years, the Thai government regards "creativity" as the main force that drives the country's economy. With the "Creative Thailand" agenda, creativity hence became key since the Tenth National Economic and Social Development Plan. Since then, Thailand's creative economy has grown from 10.83% GDP in 2004 to 13.18% GDP in 2014, totaling of 1.61 trillion baht.
The Department of International Trade Promotion – DITP's Director-General Mrs. Chantira Jimreivat Vivatrat, who also orchestrates and executes the Creative Economy policy of the Ministry of Commerce, reveals that Thailand has the competitive advantages in art and culture that enable entrepreneurs to create products with unique Thai flair, adding value to local products, differentiating them with exceptional creativity and distinguished design and fostering the country's economy into sustainable growth.
"The Department is aware that there are a lot of lifestyle entrepreneurs and start-ups that developed their goods further with innovation and creativity to become very attractive products that harbor both function and design. We would like to give them a bigger platform and give them opportunity to showcase their potentials to more than 60,000 local and international buyers that are expected to come to STYEL April 2018 between April 19-23 at BITEC Bangna. We would like to showcase the Thai creativity and craftsmanship and at the same time give our entrepreneurs a bigger stage to shine in the international markets. The Department is inviting potential buyers from Taiwan, China, Japan, USA, Hong Kong, Germany, Australia, India and ASEAN to visit the event. Interested buyers can immediately arrange trade deals with the entrepreneurs at the fair."
STYLE April 2018 offers business matching services to create trade network, activities and seminars for modern entrepreneurs. Highlight of the fair include the first-ever Creative and Design Zone, an inspiring space that stimulates Thai entrepreneurs' creativity, innovative idea and design concepts. The space includes Creative Lab, an experimental space for Thai SMEs and creative makers to share and exchange experiences, creative ideas and new approaches to further add values to their own products and services and develop their products to the needs of modern buyers from around the world. There is also Innovation plus Design StyleCafé (I+D Style Café) Exhibition that showcases products and provides marketing support to entrepreneurs with innovation, creative design and environmental friendly products amid inspiring, modern café setting. Design Excellence Award 2017 (DEmark) hosts a display of 53 Thai products with design excellence from the award in 2017, while Design Society booth gives consultancy to designers and entrepreneurs to help them develop their products or service for the international markets. There is also a special booth with display of 66 brands and 100 designers from Talent Thai & Designers' Room initiative. Another highlight is the Pattern Creator exhibition that showcase concepts and garment prototypes to help Thai garment creators enter the international markets.
STYLE April 2018, Asia's Most Stylish Fair will be held from April 19-23, 2018 (trade days from April 19-21 from 10.00 am – 6.00 pm, and public days on April 22-23 from 10.00 am -9.00pm) at BITEC Bangna, Bangkok. For more information, please visit www.stylebangkokfair.com or DITP Call Center 1169.