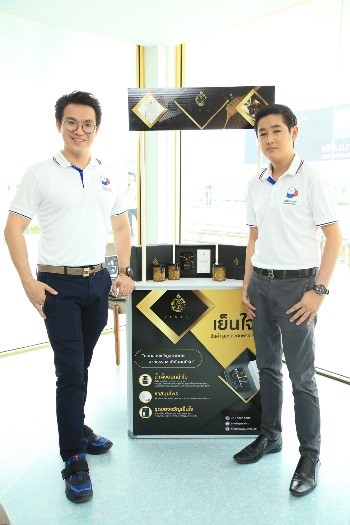 Pattanachat (Social Enterprise) opens new dimension for product promotion and social activity with "Nang Lerng Running 2018" and the launch of community product Yenjai in premium market
With modern way of thinking, 'Pattanachat' (Social Enterprise) is launched to develop and support community activities with technology with support from both the government and private sectors. The firm is gearing towards the power of diversity and sustainability with the inaugural project, Nang Lerng Running 2018. And with the collaboration with the Community Development Department, Pattanachat (Social Enterprise) is also launching 'Yenjai' to raise a community brand to premium standard. 
Mr. Akachai Lochareonvathanachai, Chairman of Community Hive, Pattanachat (Social Enterprise), reveals that, "Pattanachat (Social Enterprise) is a collective of new generation entrepreneurs of various different fields who share the same objective: to give back to society. Some members own technology-related businesses, while some have experiences with community work. We combine our different skills and form Pattanachat (Social Enterprise). The same goes with Community Hive, is an activity center, tourist destination and recreational space for both Bangkok urbanites and visitors in the heart of Bangkok."
The prime objective of Pattanachat (Social Enterprise) is to develop and support community's products and activities with technology with support from various related organizations and agencies to generate sustainable development. The on-going project that yields significant result is the refurbishment of the Royal Turf Club or Sanam Ma Nang Lerng to become mid-city recreational space and tourist destination. Pattanachat (Social Enterprise) is creating a new way to drive the society forward by rallying support from every sector. However, the fact that Sanam Ma Nang Lerng is part of the development project does not mean the space will give up its original purpose, and the firm also already reached out to Royal Bangkok Sports Club.
"Community Hive will venture around to different venues to develop, and its presence will come with community products that we can develop further under the brand Yenjai. But weather it's Community Hive or Yenjai, the direction has to comply with the way of Pattanachat (Social Enterprise) which include Development, Relaxation, Social Connection and Economy. These four pillars will drive and generate added value to the community. We aim to help small and medium size companies develop products that have impact on the markets. For example, we could help a paper manufacturer and create impact in education segment or even more with other kinds of products," the new generation executive says.
As for the brand Yenjai, it is a development plan to raise the level of community products to premium market. Pattanachat (Social Enterprise) has already commenced on several products such as honey from apiculture community in Chiang Mai. The executive also professes that Yenjai products usually have background story with future prospect. The honey that the firm is developing is now in high demand in China among other markets. The firm has helped with attractive package design to appeal to the target market and also better the living quality of the people in the community. Other products include teas – green tea, butterfly pea tea and pandan leaf tea – from tea growers. The firm engages in extensive inspection of the plantation and works closely with the community. This approach differentiates Pattanachat (Social Enterprise) from other companies.
Pattanachat (Social Enterprise) is also hosting Nang Lerng Running 2018 to introduce its concept to the public. Mr. Yosethep Devahasdin Na Ayudhya, CEO of Pattanachat (Social Enterprise), says that, "Nang Lerng Running 2018 is a clear statement of how the firm wants to engage with the community. Beside jogging, horse race show, race between national team athlete Sanchai Namkhet and a race horse and a mini-marathon, the event also includes food stalls from Nang Lerng community and other fun activities. We hope to help develop and boost the community's economy and tourism in other aspects. The event is expected to welcome 3,000 fairgoers. Our supporters include the Royal Turf Club, Thailand Horse Racing Association, College of Sport Science and Technology of Mahidol University and Athletic Association of Thailand."
Mr. Aphichat Todilokwet, Director General of Community Development Department – Ministry of Interior , states that a community can be developed by fostering two major factors. One is strengthening the community, and the second is laying strong foundation for its economy. To build strength in the community, the community leader has to enhanced and equipped with all vital information within the community that can be immediately shared with authorities and other communities.
"Merchandises and products that developed and made in a community are different from ones that come from a factory, because they cannot be copied or duplicated as they are created from unique local wisdom. Having a company or an agency lending a helping hand is a great support, both for the production and the quality of life of the people. The support also inspires self-reliance and new approaches to develop their products with creativity."
Pattanachat (Social Enterprise) is indeed a new dimension of societal driving force that promotes community products and activities with support from all parts to generate sustainable development.