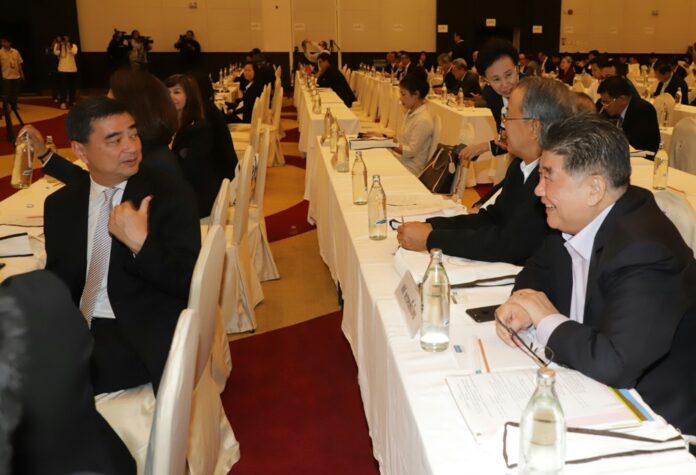 BANGKOK — All parties, old and new, will be allowed to resume organizing activities in June, an official said Friday, though the ban on protests and other political activities will remain in place.
Defense spokesman Kongcheep Tantravanich said the ban will be lifted under a law on political parties coming into effect. It will mean electoral heavyweights like the Pheu Thai and Democrat parties will be able to meet, discuss policies and choose their leaders in anticipation of the next election, now slated to take place in February.
"The organic law will be effective in June," Maj. Gen. Kongcheep said in an interview, without specifying the date. "They can actually meet right now, but they would need permission [from the junta] first. But after the law comes to effect, they can meet normally without permission."
Under current regulations, only newly formed parties can freely convene executive meetings and conduct other party business. Kongcheep said the ban is designed to level the playing field so that newer, smaller parties can compete with traditional powerhouses.
His boss, deputy junta chairman and defense minister Prawit Wongsuwan, delivered a similar message to reporters Thursday.
"Like I have said in the past, the NCPO order will be repealed," Prawit said, in reference to the junta's National Council for Peace and Order. "But now we have to wait for new political parties to finish registering, so that all parties can move forward together in June."
All political parties have been forbidden from holding meetings or organizing by the ruling junta which seized power in May 2014 following political deadlock and an election annulled by the courts.
Kongcheep said the lifting of the ban won't be extended to demonstrations and vote canvassing.
"This is not a lifting of the ban on politics. It is not. It is for political parties to engage in their activities," the spokesman said, adding that parties will need to wait for a law on electioneering to be enacted before they can launch their campaigns.
The junta previously announced it would summon all political parties to meet with the regime in June to discuss a concrete election date.
Junta chairman Prayuth Chan-ocha said March 20 he would unilaterally set a poll date if the major parties fail to show up.
"There has to be an election, no matter what," Prayuth said. "If they don't come, I will appoint one myself. Why would it be difficult?"