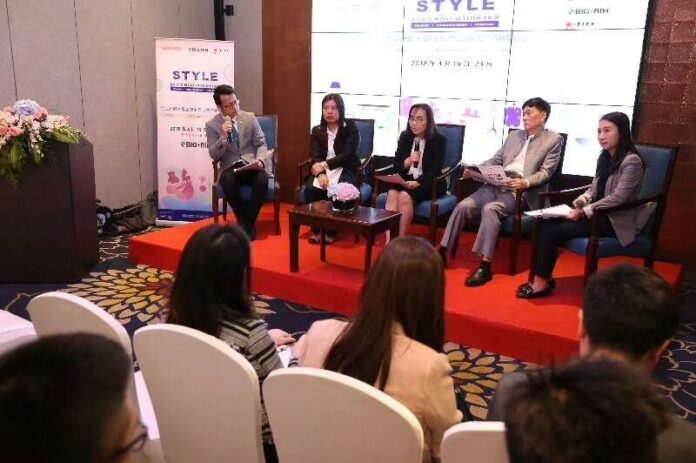 DITP hosts local and international roadshow to promote STYLE APRIL 2018 that showcases the potential of lifestyle entrepreneurs with expected 60,000 fairgoers from all over the world in attendance.
Following the phenomenal feedback after the announcement of the launch of STYLE APRIL 2018, the Department of International Trade Department (DITP), organizer of the region's biggest and most comprehensive lifestyle trade fair, is extending the promotion to attract both local and international lifestyle entrepreneurs with a roadshow in Bangkok, Chiang Mai and Guangzhou in China.
The Department of International Trade Promotion – DITP's Director-General Mrs. Chantira Jimreivat Vivatrat, says that STYLE APRIL 2018, which is the biggest and most stylish lifestyle trade fair in the region, is a combination of Bangkok International Fashion Fair and Bangkok International Leather Fair: BIFF&BIL, Bangkok International Gift Fair and Bangkok International Houseware Fair: BIG+BIH and Thailand International Furniture Fair: TIFF in one. STYLE APRIL 2018 is slated to happen between April 19-23, 2018 at the 47,000sqm exhibition space at BITEC Bangna.
DITP has extensively promoted the event to both local and international entrepreneurs and fairgoers. In Thailand, DITP promoted the fair to established lifestyle entrepreneurs as well as SMEs, startups and emerging entrepreneurs with a roadshow in Bangkok and Chiang Mai, targeting expatriates in Thailand that have interests in quality lifestyle products with good designs. The roadshow was met with positive feedback and greatly appeals to entrepreneurs, retail shops and the general public that are expected to attend the fair to purchase lifestyle products and learn more about lifestyle trends.
Outside of Thailand, DIPT has promoted STYLE APRIL 2018 through representative offices of DITP in 50 countries all over the world. Earlier in mid-March, DITP also organized a roadshow to Guangzhou in China to educate the public and attract both the buyers and the importers of lifestyle and fashion products to participate in the event. Many exhibitors and fairgoers showed phenomenal interest in STYLE APRIL 2018.
"DITP is offering STYLE APRIL 2018 as platform for both Thai and international entrepreneurs to showcase their potential. This time we expect to welcome more than 600 Thai and international entrepreneurs from Taiwan, South Korea, China, Japan, Ghana and CLMV (Cambodia, Laos, Myanmar and Vietnam) and more than 60,000 fairgoers from all over the world, especially from Taiwan, China, Japan, USA, Hong Kong, Germany, Australia, India and ASEAN. After the roadshow in China and promotion via DITP representative offices overseas, STYLE APRIL 2018 received great interest from entrepreneurs that trust in the success of the inaugural edition of STYLE that attracted more than 52,000 fairgoers from Taiwan, China, Japan, USA, Malaysia and others, and created up to 3,500 million baht in sales value. I believe this is the main reason both local and international entrepreneurs are looking forward to joining us this time," Mrs. Chantira says.
So far STYLE APRIL 2018 has attendance confirmation from more than 600 local and international entrepreneurs in 1,700 booths across 47,000sqm exhibition space.
STYLE April 2018, Asia's Most Stylish Fair will be held from April 19-23, 2018 (trade days from April 19-21 from 10.00 am – 6.00 pm, and public days on April 22-23 from 10.00 am -9.00pm) at BITEC Bangna, Bangkok. For more information, please visit www.stylebangkokfair.com or DITP Call Center 1169.