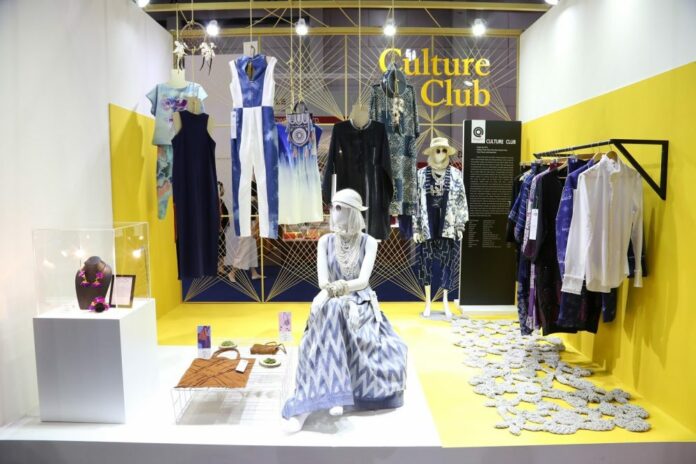 Ministry of Commerce expects to generate 1,220 billion USD from lifestyle export and makes Thailand the region's fashion and lifestyle hub from Creative Economy initiative
Mrs. Chantira Jimreivat Vivatrat, Director-General of The Department of International Trade Promotion (DITP), states that, according to the government's policy for the Ministry of Commerce to drive the national economy forward, the Department of International Trade Promotion, who is responsible for fostering Creative Economy, is planning for Thailand to become the region's fashion and lifestyle hub. Lifestyle is a strong product segment in Thailand's export and takes up 5.1 percent of the total export value. As 97 percent of Thailand's enterprises are SMEs, the department sees the potential in lifestyle product and has continuously promoted and supported this export segment.
"After the government announced the Creative Economy agenda where Thai entrepreneurs are given support to increase their market opportunities and develop their products and services with unique Thai flair as highlight, many Thai start-ups managed to enhance their products with creativity, innovation and local wisdom and created Thai products that are outstanding in both design and function, creating higher demand for Thai products in the global market. The department believes that the export value for lifestyle products can exceed 1,220 billion USD by the end of this year and continues to grow from the previous year."
Lifestyle product export during January and February 2018 shows exponential growth, especially the fashion segment that expands 12.27 percent and the lifestyle segment that grows 11.19 percent compared to the previous months, due to strong global economy. Although Thai baht has strengthened, other currencies in the region are facing the same direction. Thai export therefore has remained intact.
In 2017, the overall lifestyle export value (fashion and lifestyle products combined) was 12,093 million USD (approximately 399,083 million baht). This year, the department is confident that Thai lifestyle products will grow in every market, especially in secondary markets in countries such as China, Malaysia, India, Myanmar, Vietnam and Bangladesh, where the economy is thriving, and the middle class and upper class are growing. And these factors are generating higher demand for lifestyle products
To further promote Thai lifestyle products, the department is hosting STYLE APRIL 2018, Asia's biggest and most comprehensive lifestyle trade fair, that combines three big annual fairs, namely, BIFF&BIL, BIG+BIH and TIFF, into one. The second edition of STYLE APRIL 2018 is the department strategy to support and develop international trade and the follow up on the success of the inaugural edition in October 2017 that welcomed 52,000 fairgoers from 80 countries and created 3,500 million-baht sales.
The second edition of STYLE APRIL 2018 is hosted under the concept Crenovative Origin that combines the idea of creativity, innovation and unique Thai originality, to comply with the government creative economy initiative and respond to the global lifestyle trends that demand modern lifestyle products with Asian flair.
So far, the department has continuously encouraged Thai entrepreneurs to add value to their products and services with creativity and innovation, as well as offered platforms for them to showcase their products to both local and international buyers. STYLE APRIL 2018, Asia's most stylish fair, will be held from April 19-23, 2018 (trade days from April 19-21 from 10.00 am to 6.00 pm, and public days on April 22-23 from 10.00 am to 9.00pm) at BITEC Bangna, Bangkok. For more information, please visit www.stylebangkokfair.com or DITP Call Center 1169