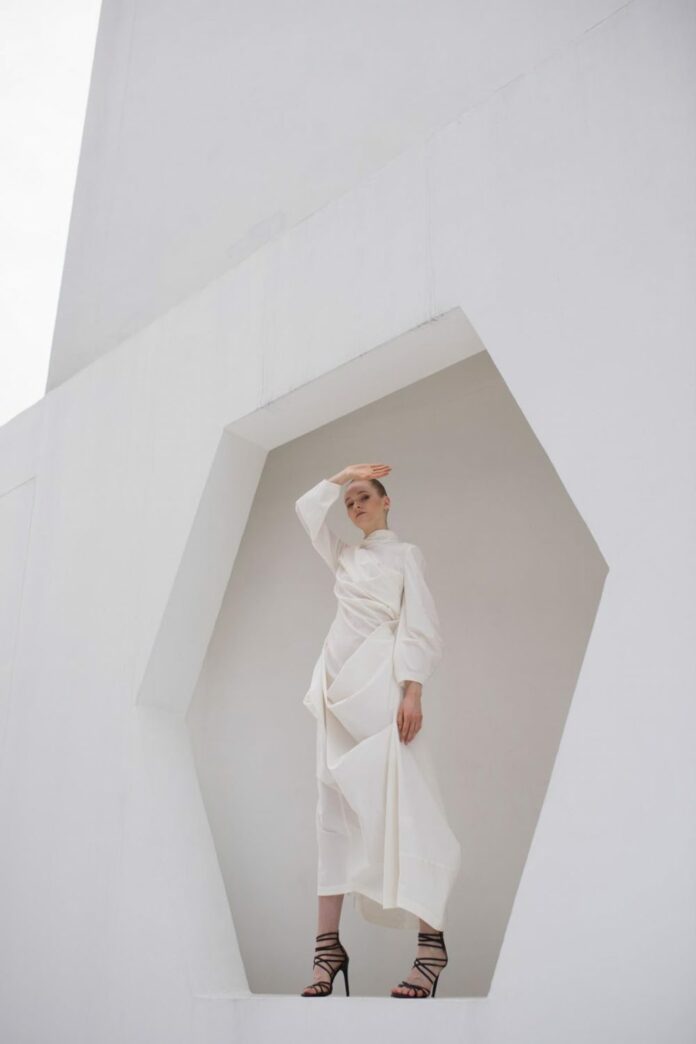 Department of International Trade Promotion supports Thai functional textile with roadshow for Thai designers under the concept "Function + Fashion" at STYLE APRIL 2018.
As the demand for functional textile in both local and international markets is constantly on the rise, the Department of International Trade Promotion (DITP) lends support to Thai textile manufacturers with highlight on technology and innovation that adds values and expands market opportunities. Therefore, functional textile becomes one of the main highlights at STYLE APRIL 2018 where DITP hosts a functional textile exhibition featuring works of 10 Thai designers under the concept "Function + Fashion".
Textile is considered a high-demand merchandise, both in the Thai and international markets, and shows promising growth, especially functional textile. The Department of International Trade Promotion, Ministry of Commerce, hence encourages Thai entrepreneurs to add value to their products and differentiate themselves from the competitors with technology and innovation to cater to the diverse needs of different groups of consumers. So far, many Thai textile entrepreneurs have responded to this new market trend and incorporated functional textile in their products.
Mrs. Chantira Jimreivat Vivatrat, Director-General of The Department of International Trade Promotion – DITP, says that, "functional textile and innovative-smart textile are products with greater potential to grow than traditional textile. Technical textile has already grown more exponentially than other textile products in the area of Thai export, especially technical textile for industrial use and garment. These include light-weight, fire-proof textile and electromagnetic fabric that can be connected to electronic equipment as well as textile with health benefit, medical function, resource efficiency and environmental friendliness.Functional textile also features qualities such as anti-germs, chemical and radiation-proof and even the ability to measure heartbeat. Functional textile is currently in high demand for fashion, sportswear, industrial uniform and furniture markets. The trend shows that the demand this kind of product only gets higher and makes for promising business."
To showcase the potential of Thai textile entrepreneurs, the department is hosting a functional textile exhibition as part of STYLE APRIL 2018, which is slated to happen between April 19-23, 2018 at BITEC Bangna, to promote Thai textile to international buyers and create more business opportunities for Thai entrepreneurs in the global market.
Functional textile is presented through design and sartorial excellence by 10 Thai designers, namely, asava, Theatre, KLOSET, Tipa, TandT, Pattric Boyle, iCONiC, BLACK SUGAR, BOUTON and ISSUE, under the concept Function + Fashion. Strengthening Thailand's position as the leader in textile industry in ASEAN and soon the world, the exhibition shows how functional textile from upstream business is transformed into practical streetwear that can be used in daily life, revolutionizing the image of functional textile that it is only typically used for technical products. Functional textile is inspiring more creative, comprehensive use in the future and it is the key for value adding and product differentiation in the fashion market, from upstream to downstream industry.
Apart from products from renowned designers, the exhibition also includes many other lifestyle products for new generation consumers that are developed from functional textile to cater to their active and health-conscious lifestyle. On the display are Health and Care products for medical use that are bacteria and germ-free, and Office Wear, focusing on comfort and aesthetic, and incorporates Cool Max fiber or electrostatic-proof quality in the uniform to enhance efficiency and safety. There is also Intimate and Lounge Wear products that aim to offer delicate feel, comfort and even skin nourishment with special collagen-laced fibers that moisturize the skin. Climate Adjustment and Adventure Wear caters to adventurous and outdoor use with qualities such as water and UV-resistant, while Active Wear is optimized for sports activities that require support, mobility and ventilation.
Learn more about functional textile and how it can be incorporated into street fashion and various lifestyle products at Hall 101 booth  EE/FF in  STYLE APRIL 2018, Asia's Most Stylish Fair, which will be held from April 19-23, 2018 (trade days from April 19-21 from 10.00 am to 6.00 pm, and public days on April 22-23 from 10.00 am to 9.00pm) at BITEC Bangna, Bangkok. For more information, please visit www.stylebangkokfair.com or DITP Call Center 1169.