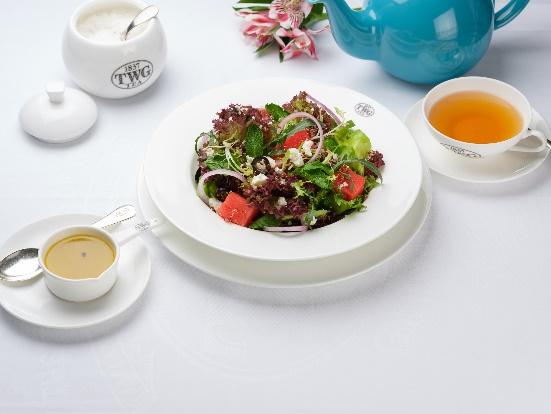 ฺBANGKOK — TWG Tea, the world's finest teat brand in the world, is launching tea-infused savory and sweet dishes to welcome the summer of 2018 and bring joy and festive fun to tea-loving diners at TWG Tea Salon & Boutique at Siam Paragon and The Emporium from April 6 to May 31, 2018.
When the warm breeze of summer arrives, TWG Tea, the premium quality tea brand that offers finest teas from tea plantations all over the world, creates special menus to capture to summer joy and refresh the palate of tea lovers.
Summon the summery flair with a starter, Duck Summer Roll, which is a spring roll with seasoned duck breast wrapped with fresh herbs and ripe mango, served with tangy orange and acar sauce infused with Miraculous Mandarin Tea
A healthy and refreshing choice includes Watermelon Feta Quinoa Salad with chilled watermelon, crumbled feta served with red quinoa, fresh mint leaves tossed in a refreshing passion fruit dressing infused with Summer Palace Tea, which is a blend of green tea, cherry blossom and strawberry.
Delight your palate with Scallop Carpaccio where fresh hand-dived scallop is topped with light spicy hibiscus dressing infused with Jade of Africa Tea, a blend of red tea, sunflower and berries. The dish is garnished with caper, frisee, sorrel and pink pepper for extra aroma.
Main courses for the summer are vibrant and flavorful without being overpowering. The first dish is Tom Kha Risotto, an East-meets-West flavor combinations of sour, sweet, spicy and creamy Italian risotto and authentic Thai chicken in coconut and galangal infused with Coconut Tea broth.
The second choice is Angel Hair AOP with Seared Marinated Tuna. A spicy and full-flavored dish with garlic, black olive, cherry tomato and basil topped with seared Smoky Earl Grey marinated tuna.
Another pleasant entree is Crab and Truffle Cappelletti where homemade egg pasta is filled with crab meat, truffle and edamame, servied in herb roasted pumpkin infused with the spiced black tea blend Comptoire des Indes Tea sauce, topped with sage brown butter.
The invigorating sweet treat to end the perfect meal include Summer Eden that comprises vanilla sponge cake layered with strawberry jelly infused with 1837 Black Tea – a blend of back tea, berries and caramel – and vanilla Chantilly. The colorful dish comes with lime, cucumber, mint jelly and fromage blanc sorbet and a crunchy, refreshing watermelon.
Last but not least is Mango Granite with Sticky Rice, the seasonal sweet treat. Juice of ripe mango is used to make granite and infused with Alfonso Tea, which is a blend of black tea, mango and sunflower. The dish is served with diced fresh mango, sticky rice, coconut foam and passion banana cream.
The menus are available as set with starter, main course, dessert and teat at 890 baht as well as a la carte from 300 baht per dish. Savor the delectable, refreshing tastes of summer at TWG Tea Salon & Boutique at Siam Paragon and The Emporium from April 6 to May 31, 2018. For more information, call 0-2259-9510.