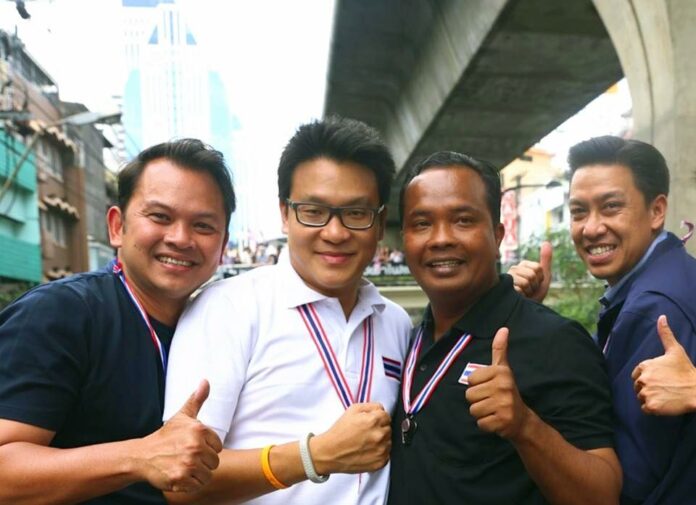 BANGKOK — A deputy governor of Bangkok said Thursday he welcomes a former anti-election campaigner as his colleague, citing his "knowledge and ability."
Jakkrapan Piew-ngam said he's confident that Sakoltee Pattiyakul, who helped lead street protests that set the stage for the May 2014 coup, would serve as an impartial civil servant in the City Hall amid complaints of favoritism.
"I think, when it comes to work, there is no problem appointing someone with knowledge and ability like him," Jakkrapan said. " He can work for the people and maintain his impartiality."
In an April 10 order signed by Gov. Aswin Kwanmuang, Sakoltee was appointed to the capital's No. 2 position, replacing another official removed from the post. The order came a week after Sakoltee met with deputy prime minister Somkid Jatusripitak at the Government House.
The appointment was made possible by a junta special order authorizing Aswin, who himself was given the top job by junta fiat, to name or remove anyone as his deputy.
Sakoltee campaigned alongside Suthep Thaugsuban and other activists to topple the then-elected government and block a snap election called in February 2014. For his role in the protest, Sakoltee was indicted on a charge of insurrection by the court this March. The trial is ongoing.
News of Sakoltee's appointment raised ire among supporters of the former government who see it as a reward to Sakoltee from the regime for his past activism.
"It's clear. This is a show of gratitude and giving reward," Tinn Sujaritrakyonij wrote in a news thread.
"Oh so they are from the same clique? I'm confused how someone who shut down Bangkok ends up as Bangkok deputy governor," another user Nong Prom commented.
Asked what specific qualifications Sakoltee had for the job, his colleague Jakkrapan declined to speculate. He referred to Gov. Aswin for any question concerning his decision to appoint Sakoltee. Aswin could not be reached for comment as of publication time.