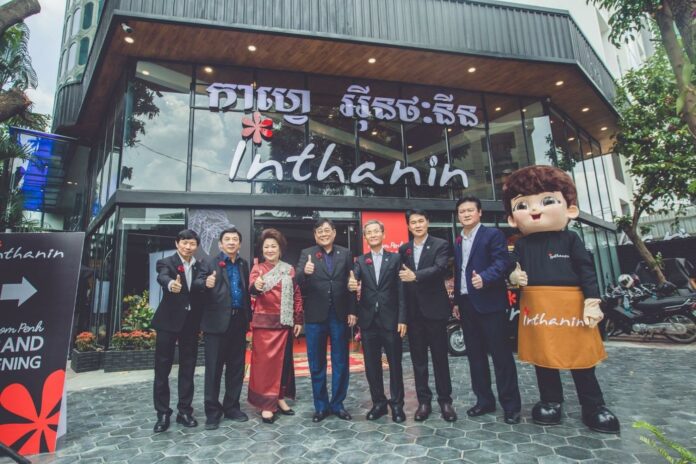 PHNOM PENH — Thai cafe chain Inthanin Coffee has been officially launched in Cambodia's capital Phnom Penh, offering local consumers with premium organic Arabica coffee and a delicious menu designed by celebrity Iron Chef. The Thailand's Inthanin brand also plans to expand to Laos by mid this year.
Ms. Jiranun Wongmongkol, president of RCG Retail (Cambodia) Co. Ltd., said that more than 20 local investors had showed interests in operating Inthanin café in Cambodia after the one-month trial run thanks to positive feedbacks from the consumers. The Inthanin Café offers quality products in a premium atmosphere at affordable prices.
RCG Retail (Cambodia) is determined to make Inthanin brand popular in the Cambodian market. The cafe is aimed at the upper-middle to high-income brackets and suitable to lifestyle of office people. Distinguishingly and beautifully designed, the Inthanin cafe has become a place where white collars come to relax or have a meeting. The cafe is also popular among advertising producers and TV program producers in Cambodia. "We are positive that RCG Retail will lead Inthanin to a sustainable success in the Cambodian market," she added.
Mr. Pichai Chunhavajira, chairman of Bangchak Corp Plc., said the history of Inthanin Café went back 12 years ago when Bangchak petrol stations opened the first outlet to serve motorists. Currently, there are over 500 branches of Inthanin cafe. The company expects to have 1,000 branches by the year 2020. The company is now ready to take premium Thai coffee to the world market, starting from the expansion into CLMV countries (Cambodia, Laos, Myanmar, and Vietnam). Cambodia is among the potential markets as its economy is stable with a high growth rate. Under the pipeline, Inthanin will have 100 branches in Cambodia in the near future.
H.E. Pao Hengdara, Under-Secretary of State of Commerce of Cambodia, said at the opening ceremony of Inthanin cafe in Phnom Penh that the coffee and café business is enjoying a growth in Cambodia. In addition, the people are familiar with Thailand and their products are popular among the Cambodians. "I believe that Bangchak's expansion will be the successful step in Cambodia."
Bangchak Corp's President and Chief Executive Office Mr. Chaiwat Kovavisarach said that the coffee markets in Cambodia and Laos have high potential with high growth rates as the consumers in both countries love drinking coffee. Bangchak has granted a Master Franchise for Inthanin cafe to RCG Retail (Cambodia) Co. Ltd. for operating the outlets in the two countries. The pilot project in Siem Reap, a hub of tourists in Cambodia, was opened first before the debut of flagship store in the center of Phnom Penh in April. As for Laos, the company plans to open the first branch in the third quarter of this year. Under the expansion plan, the company plans to open more than 100 branches of Inthanin in two countries in the near future. The partnership with Dutch retail giant SPAR International, whose businesses are established in 50 countries worldwide, makes the company more competitive in entering into other markets.
Mr. Viboon Wongsakul, managing director of Bangchak Retail Co. Ltd., said that the overseas expansion of Inthanin would be in a new concept that offers a great variety of products in the café. First, Inthanin Garden offers organic coffee with great taste and aroma from 100% Arabica coffee that caters to those loving organic coffee. It makes Inthanin a leader in organic coffee. Second is Inthanin Bistro whose pilot project in Don Muang International Ariport serves not only coffee and bakery but also savory and sweet dishes such as salad, pasta and ice-cream. The latest in the brand portfolio is Inthanin Natural that has just opened its doors at SkyLane Suvanabhumi. In addition to coffee, consumers would find healthy food like fresh produce and fruit juices as well as all convenient store's best-sellers at the Inthanin Natural. As for the overseas branches, the demand of local consumers would dictate the type of Inthanin store. However, every Inthanin branch will share "More than just a high-quality coffee" concept.
Ms. Jiranun, RCG Retail's president, added that the outstanding point of Inthanin in Cambodia, apart from organic Arabica coffee, is Thai food. They are favorite among the local consumers. The menu has been created by Star Chef Chumpol Chaengprai, celebrity Thai chef from Iron Chef Thailand TV program. The dishes were created to maintain the excellence of authentic Thai tastes. The tasty food and premium coffee are enhanced with relaxing décor which is designed to suit the lifestyle of the local people there.
Bangchak Retail, the retail arm of Bangchak Corporation Group, has granted RCG Retail (Cambodia) the Master Franchise licence in operating Thai-brand Inthanin café in Cambodia and Laos. Bangchak is Thailand's leading energy company whose businesses are in line with social responsibility and environment friendliness.