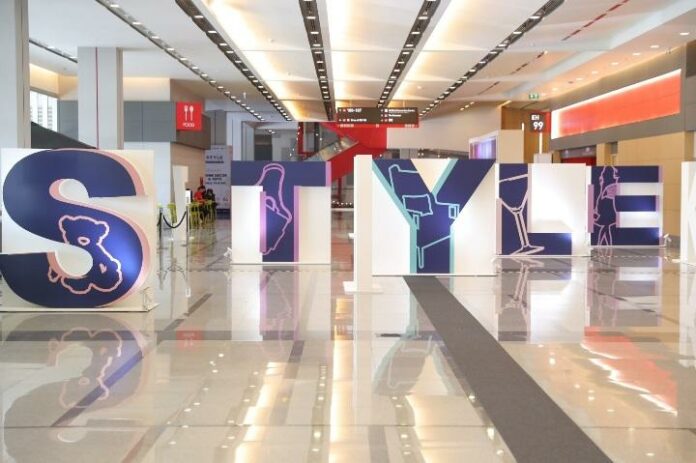 STYLE APRIL 2018 successfully concluded with 2,600 million in baht trade value, drawing more local and international entrepreneurs across 1,700 booths and 51,000 fairgoers.
The Department of International Trade Promotion, Ministry of Commerce, recently hosted the region's most stylish and comprehensive lifestyle trade fair, STYLE APRIL 2018, between April 19-23, 2018 at BITEC Banga. Combining three major annual fairs – Bangkok International Fashion Fair and Bangkok International Leather Fair (BIFF&BIL), Bangkok International Gift Fair and Bangkok International Houseware Fair (BIG+BIH) and Thailand International Furniture Fair (TIFF) – in one to showcase the potential of Thai entrepreneurs with creativity and innovation, STYLE APRIL 2018, concluded with immense success, drawing more than 51,000 fairgoers and generating more than 2,600 million baht in trade value.
Mr. Sontirat Sontijirawong, Minister of Commerce, stated that during the trade days of STYLE APRIL 2018 between April 19-23, 2018, the outcome every satisfactory and the trade value reached as high as 2,600 million baht. More than ten thousand fairgoers participated in the fair during the first three days, especially from Taiwan, Japan, USA, Singapore and India.
STYLE APRIL 2018 was hosted under the concept Crenovative Origin, incorporating the concepts of creativity, innovation and Thai-inspired originality to comply with the Creative Economy agenda of the government. The fait lifestyle products from 637 entrepreneurs across 1,700 booths in 47,000sqm exhibition ground. Among the exhibitors, 552 were from Thailand and 85 were from Japan, China, South Korea, Taiwan, Ghana and CLMV (Cambodia, Laos, Myanmar and Vietnam). The fair concluded with 2,600 million baht in trade value and frequented by 51,000 fairgoers from across the globe, marking another great success of the Department in expanding international trade opportunity for Thai entrepreneurs and launching their products in international markets.
"Lifestyle product is a significant market segment in the Thai economy. The Ministry of Commerce, through the Department of International Trade Promotion, has always valued the importance of lifestyle industry. The Department has constantly encouraged entrepreneurs, who are mostly SMEs and startups, to add value to their existing products with creativity and innovation to respond to the global market trends and expand their business opportunity in the international market. This second edition of STYLE shows that there are numerous Thai entrepreneurs that developed their products with creative and innovative approach, harnessing both design and function to appeal to international buyers who immediately placed orders and signed trade agreements, generating more trade value that previously expected," the Minister of Commerce said.
STYLE APRIL 2018 offered comprehensive display of lifestyle products, categorized in three main groups, namely Fashion that included clothing and garment, accessories, shoes, bags, leather good, sport equipment, travelling goods and recreational products; Gift and Home Décor that include gifts, home decorative items, homeware, stationery, toys and health products; Furniture. The fair also showcased lifestyle products for niche markets, including products for elderly, products for mothers and kids, products for pets, One Tumbol One Product (OTOP), products for Muslim and new products and services that covered functional textile, Thai characters and wellness & medical service.
STYLE APRIL 2018 also hosted the first Creative and Design Zone to enhance lifestyle entrepreneurs and local wisdom products with creativity, design and innovation, and give them platform to showcase to buyers from all over the world. There was Creative Lab that acted as an experimental lab for Thai SMEs and Creative Makers to exchange ideas, creativity and new approaches to add value to their products and develop their products cater to the needs of modern buyers from around the world. Popular products from Creative Lab included Thaitone, granadilla tea, self-cleaning silk and pillows for snoring. The workshop was also joined by many interested participants and entrepreneurs seeking for advices.
STYLE APRIL 2018 also supported emerging entrepreneurs in The New Face initiative, giving them a platform to showcase their lifestyle products with refreshing, new designs that generated more than 67.14 million baht in trade value. Offices of Commercial Affairs from Chiang Mai, Lampang, Lampoon and Bueng Kan also showcased lifestyle products from local SMEs and collectively generated 57,350,300 baht in trade value.
Thai products that became popular among international buyers at STYLE APRIL 2018 include special fabrics and functional textile such as waterproof fabric, UV-resistant fabric, Cool Max fiber, anti-static fiber, collagen-laced fabric, garments and bags made with anti-bacterial fabrics as well as spa and aromatherapeutic products and tableware such as plates made from corn sugar.
STYLE APRIL 2018 was met with phenomenal response from fairgoers and Thai entrepreneurs were able to secure new trade deals with new groups of buyers such as retailers, concept stores, property projects, buying agents, local and international shopping malls as well those in lifestyle and fashion industry from around the world, allowing Thai entrepreneurs to expand their clientele base to reach more buyers. The Department also offered comprehensive assistance and consultancy that included DITP LOGISTIC CENTER and DITP SERVICE CENTER that offered all services by the Department in one spot.
The Department of International Trade Promotion aims for STYLE APRIL 2018 to become an international trade fair recognize by local and international sellers and buyers that gives more business opportunities for big and small entrepreneurs in the international markets, increases export value and strengthens the country's economy. STYLE APRIL 2018 was held between April 19-23, 2018 at BITEC Bangna Hall 98-105 across 47,000sqm exhibition space. The trade days were between April 19-21, and the public days were on April 22 and 23, 2018.