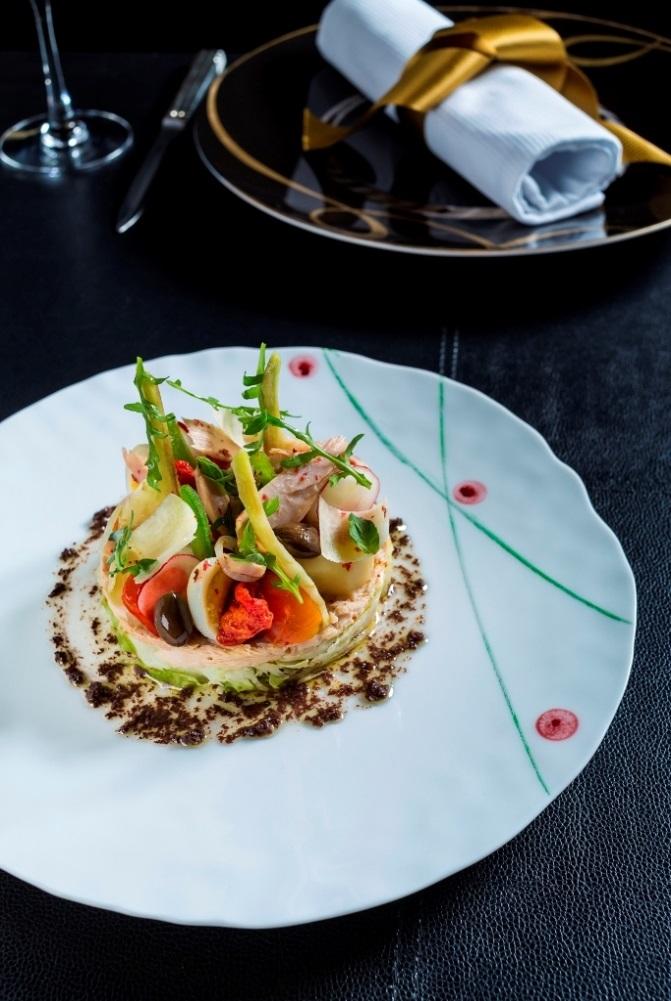 L'Atelier de Joël Robuchon is a posh, stylish Michelin-starred restaurant that serves classic French cuisine that's deeply rooted in the traditional French cooking technique. True to its core values of quality, conviviality and friendliness, the restaurant provides the best fine dining experiences at all price points in a cheerful, laid-back atmosphere unlike any other classic French eatery. The restaurant positions itself as a friendly, accessible fine dining establishment. It strictly adheres to the cooking philosophy of founder and renowned French chef Joël Robuchon that is centered around providing his patrons with feelings of relaxation, exclusivity and warmth over a meal that is free from any dining rules.
Mr Robuchon approaches his restaurant with his own creative vision: to create a high level of interaction between the chef and the diners and craft better cuisine in the presence of guests. To achieve this, the restaurant features an exclusive open kitchen on a counter surrounded by seats offering diners a vantage point to view the kitchen frenzy as the chef expertly prepares and experiments on new ideas, or crafts classic dishes. The open kitchen concept aims to provide diners with a sense of relaxation that is in line with the restaurant's design concept.
Designed by renowned designer Mr Pierre-Yves Rochon, the restaurant is styled as an "atelier", or "workshop", using a red and black graphic color scheme. The choice of décor was inspired by the simplicity of a Japanese layout and the vibrant atmosphere of a Spanish tapas bar. The design, together with the theatricals that play out in the open kitchen, helps bring a sense of  informality and conviviality right to the fore, ultimately consummating a dining experience.
The restaurant has two sections: L'Atelier and La Terrace. The L'Atelier area has an open kitchen as its centerpiece. Chefs prepare dishes in front of customers seated at a counter on a high bar. La Terrace focuses on a more traditional dining format with two private rooms for diners with a craving for a peaceful, relaxed setting.
L'Atelier de Joël Robuchon in Bangkok serves classic and contemporary French cuisine based on the classic recipes of the veteran culinary genius and founder Joël Robuchon, himself the most Michelin-starred chef in the world. The cuisine is billed as classic French and chiefly the same as the one served in France, but uses less salt in a bid to satisfy the Thai palate.
After a recent image makeover, the restaurant is now increasingly synonymous with affordability that translates into the diner's freedom of choice: a meal at L'Atelier de Joël Robuchon can be a single dish or consists of different courses, catering to all tastes and needs. The menus are updated on a seasonal basis, changing four or five times a year and on a 2 to 3 week cycle.
The chef takes responsibility for sourcing ingredients of the highest quality. The ingredients are 40 percent local, and 60 percent imported. Local ingredients include top-quality organic greens and other fresh produce from the Royal Project farms in northern Thailand. These include crayfish (transported alive), chicken "Bresse style", seasonal peach, avocado and fresh coriander.
For a true taste of France, the restaurant imports Dover sole from Brittany, lamb from the Pyrenees, caviar from Sologne, caille form Vendee, and black truffle from Perigord. In addition, there's wagyu from Japan, king crab from Alaska, iberico ham from Spain, olive oil from Spain and scallops from Hokkaido.
In the wine department, the restaurant has a select wine list with remarkable new- and old-world vintages costing between Bt1,200 to 680,000 per bottle. Wine by the glass is available at a cost of between Bt400 to Bt1,000. For the first time, the restaurant has just introduced a corkage fee of Bt1,500 if diners want to bring their own wine.
Two sommeliers (a Spaniard and a Thai) are on hand to field questions from diners related to food and wine pairing.
Wines available by the glass recommended for lunchtime include: 2015 Pinot Blanc 'Mise du Printemps' Domaine Josmeyer (Bt400); 2015 Riesling 'Brauneberger' Qba Fritz Haag (Bt450), and  2015 Arbois Pinot Noir 'Sous la Tour' S.Tissot (Bt650).
For dinner, wines available by the glass include N.V Veuve Clicquot Brut Yellow Label (Bt900); 2015 Chablis Grand Cru 'Le Clos' Domaine Christian Moreau (Bt980); and 2012 Brunello di Montalcino, Renieri (Bt600).
Manning the kitchen at L'Atelier Bangkok is Executive Chef Olivier Limousin. Before joining L'Atelier Bangkok, the award-winning chef began his cooking career as a commis at Le Bellecour at the age of 18. Three years later, the Frenchman moved to Amphycles, a 2-Michelin star restaurant where he was initially appointed a commis and eventually promoted to sous-chef de cuisine within 5 years.
Later on, he moved to Le Taillevent, a 3-Michelin star restaurant for a 2-year stint before returning to Le Bellecour where he became head chef and obtained his first Michelin star. After a 3-year stint at Le Bellecour, Mr Limousin was invited to join Mr. Robuchon and opened La Table de Joel Robuchon in Paris in 2003, where he obtained 2 more Michelin stars. After 2 years of success, he moved to London, to open L'Atelier de Joel Robuchon – London, and was awarded 2 Michelin stars. After 8 years of his successful management at L'Atelier's London outpost, he was headed for Bangkok on a mission to open L'Atelier De Joel Robuchon – Bangkok, which secured its first Michelin star in 2017.
Himself a truly dedicated chef, Limousin has been involved in several TV cooking programs such as 'Bon Appetit Bien Sur', 'Cartes Postales Gourmandes' and 'Master Chef UK and Thailand'. A self-styled philanthropic chef, Limousin never stops reminding his fellow co-workers of his personal wisdom: "The core of successful business is to OFFER PLEASURE to all the guests".
Mr Gianvito Zizzi, the only Italian of the team, is a native of Martina Franca, a town in the Puglia region of southern Italy. With utmost dedication, he attended a college of restaurant management and services in Italy in his formative years. Mr Zizzi is a food lover and traveler who's passionate about satisfying customer demands as much as discovering new cultures. Step by step, he advanced his career through the years with roles at an array of fine establishments from five-star hotels to Michelin-starred restaurants such as Hotel Hermitage, La Sommita – Ristorante Cielo, and the Grand Hotel Kalidria & Thalasso Spa. These stints took him to a number of foreign destinations  including the United States, Turkey and eastern Europe. He joined L'Atelier Etoile de Joël Robuchon" in Paris in 2012 that was awarded one Michelin star. He's been based at L'Atelier Bangkok since 2014, and in 2017 it garnered one Michelin star.
L'Atelier targets a broad base of clientele of all ages and budget ranges including the new generation, families, executives and gastronomes. With the restaurant's highly customized facilities, customers come to celebrate special occasions such as birthdays and anniversaries while others turn up for high-powered business lunches and dinners to treat their guests or colleagues to an exclusive meal. The place also appeals to the new generation with their discerning taste for classic French cuisine served in a relaxed, friendly atmosphere. On weekends, parents turn up with their children for a quality meal time.
L'Atelier de Joël Robuchon in Thailand is the 11th of the Ateliers worldwide. It's located on the fifth floor of MahaNakhon CUBE and can be reached from BTS Chong Nonsi.