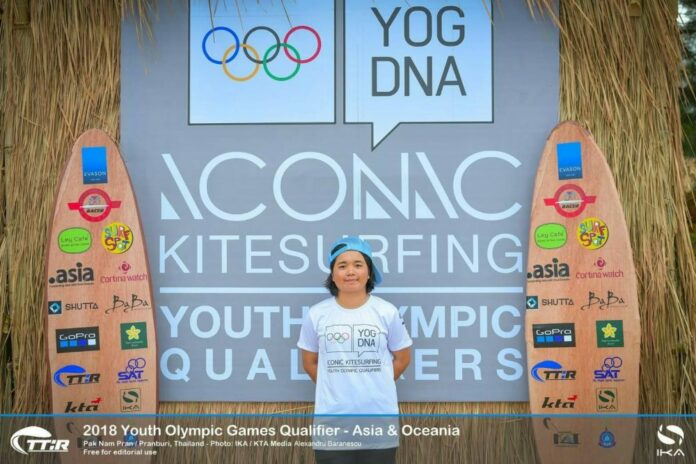 Kiteboarding Association Thailand pins hopes on Thailand's first national-team kiteboarder at the Youth Olympic Games 2018.
Nichanan "My" Rodthong, Thailand's national-team kiteboarding athlete, looks set to be the first Thai kiteboarder to compete in the finals of the Youth Olympic Games 2018. The kiteboarder is undergoing training sessions to raise physical fitness before joining the Olympics in October in Argentina.
Making the Kiteboarding Association Thailand proud, Nichanan "My" Rodthong, the youthful kiteboarder of Thailand's national kiteboarding team, has passed the qualification process, earning herself a place in the finals of the Youth Olympic Games 2018. Now recognized as the first Thai kiteboarder to compete in the Olympics, Nichanan is undergoing rigorous training in a bid to win a medal for Thailand.
Kiteboarding, also called kitesurfing, is an extreme water sport that combines the skills of surfing, snowboarding, skateboarding and wakeboarding with those of paragliding. A kiteboarder uses a power kite to be propelled across the water at high speed and to execute mid-air manoeuvres. The Youth Olympic Games 2018, which will be held Buenos Aires, Argentina in October, includes kiteboarding as one of the contested sports for the first time. To be eligible to compete in the Youth Olympics Games 2018, kiteboarders must join the qualification tournaments and have been born between 2000 and 2003 to prevent any advantages or disadvantages that arise as a result of the contestants' age gaps.
Kiteboarding contestants from all over the world participated in the qualification process before competing in the Youth Olympic games 2018. In the qualification process, contestants from the Americas and Caribbean competed in Cabarete, the Dominican Republic; athletes from Europe and Africa went head to head in the tournaments held in Dakhla, Morocco; those from Asia and Oceania joining the qualification round at the Iconic Kiteboarding Youth Olympic Games Qualifiers held at Paknam Pranburi, Prachuap Khirikhan province, Thailand. The final stage of the qualification process was held at the TT:R Youth Slalom World Championships at Boao, Hainan, China. In total, kiteboarders from 12 countries have romped ahead to the finals of the Youth Olympic Games 2018. One of them is Nichanan "My" Rodthong representing Thailand.
Nichanan, 18, is a native of Rayong. She started kiteboarding in 2016 and in that same year went on to join several kiteboarding competitions in the hope of becoming a member of Thailand's kiteboarding national team.
"I like sports, and as my house is located a seaside town where kiteboarding is a popular sport, I decided to take the plunge and ever since, I have been training regularly. To take up kiteboarding, swimming skills an essential prerequisite and quite necessary in case you have to help yourself somewhere in the sea. Kiteboarding takes perseverance as it is a difficult sport. To master the sport, it takes time to practise. You won't be able handle it in the first attempt because kiteboarding depends on several external factors, most notably the wind. Without the wind, you can't play kiteboarding because the sport doesn't use an engine. You must harness the power of the wind as the source of propulsion. Kiteboarders must concentrate and overcome the fright. If you can get yourself psyched up, you can play the sport. In my opinion, kiteboarding is rewarding in many ways, both physically and psychologically. The sport demands the use of every part of your body and requires a great deal of concentration. You always have to concentrate on yourself and practise solving unforeseeable problems like when you are being stranded at sea. Kiteboarders have to train themselves to be mindful, not to feel panicky so that you can solve problems at hand. That's among the charms of this sport," she says of her adoption of kiteboarding and its appeal.
Toward the end of 2016, Nichanan competed in different kiteboarding tournaments consistently to gain enough experience and raise her chances of becoming a member of Thailand's national kiteboarding team. She has done a great deal of continuous practice through a months-long training camp on an island to adjust to competition venue conditions. She never skipped a day during the training except for the days without a breath of wind. She had the strong determination to pass the qualification process through to the Youth Olympic Games 2018. She joined the Iconic Kiteboarding Youth Olympic Games Qualifiers 2018, which was held in Pranburi, Prachuap Khirikhan as the qualification process for contestants from Asia and Oceania. With her second place in the qualification process, she failed to qualify. But she showed no sign of fretting. She decided to join the TT:R Slalom Youth World Championship 2018 at Hainan, China. She finished in 20th place, which gave her automatic eligibility for the Youth Olympic Games 2018 in accordance with the Continental Qualifier Asia principles (the next ranked nation not yet qualified).
"I trained every day except for days when there was no wind. When the wind was getting up, I trained two or three hours per day. Before joining the competition, I got myself psyched up and told myself to do my best. As for the Youth Olympic Games 2018, I'm hoping to do my best and win a medal for Thailand. I'm a bit worried though, especially given highly experienced contestants like those from Spain who are blessed with more extensive competition experience. But I think that if I keep training hard, I probably won't end up being inferior for sure," she said.
Thais who love the thrills and spills of extreme sports are welcome to cheer on Thailand's own national-team kiteboarder Nichanan "My" Rodthong during the Youth Olympic Games 2018, which will be held in October at Buenos Aires, Argentina. For more information and the latest updates on kiteboarding news and tournaments, visit www.internationalkiteboarding.org, www.kiteboardtour.asia  or www.facebook.com/kiteboardtourasia