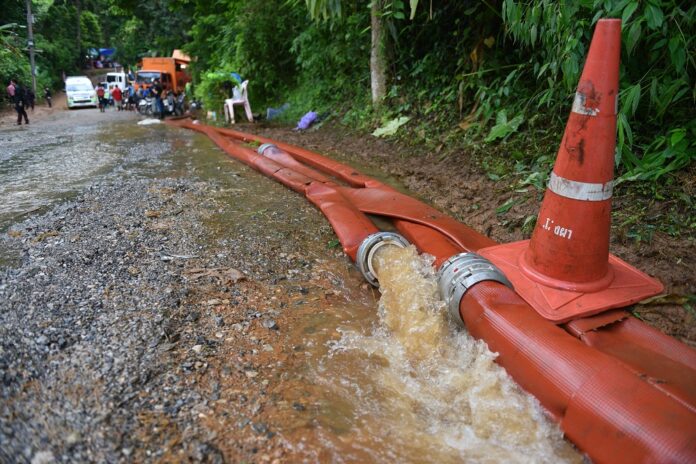 BANGKOK — The military government said Tuesday it has greenlit compensation for farmers who lost their crops to the ongoing effort to pump water out of a northern cave in a bid to rescue 13 people trapped inside.
Owners of affected farmlands will receive about 1,100 baht for each rai (or 0.16 hectare) of flooded land, agriculture minister Krisada Chinavicharana told reporters at Government House. He said the payment will be handed out as soon as possible.
Up to 1,600 rai of farmlands in three districts of Chiang Rai province have been submerged by the rescue operation at Tham Luang Nang Non, Krisada said, adding that the number could rise, as officials are still collecting information about affected areas.
Officials will also hand new seeds out to farmers who lost their crops, according to a ministry statement.
Shortly after the search was launched for the 12 young footballers and their coach – who all went missing inside the cave June 23 – rescue workers have been pumping out water from the flooded caverns and passages to allow more access.
Heavy rain and subterranean floods complicated the rescue efforts until a pair of British divers – with the assistance of navy special forces and rescue workers from seven countries – located the 13 inside the cave Monday night.