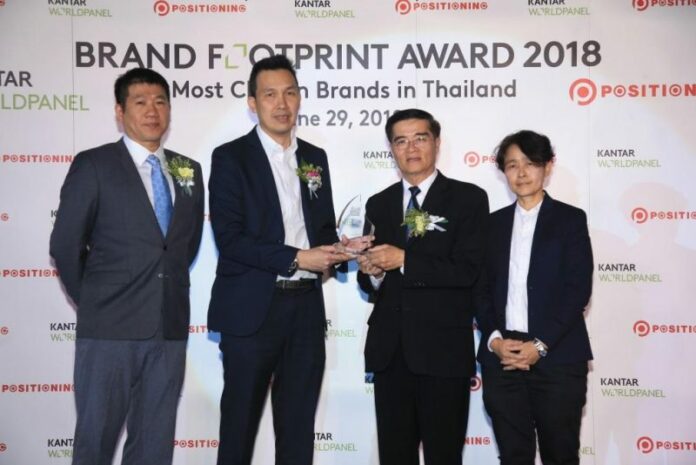 Carabao secures market dominance as a world-class brand of world-class products by winning the "Brand Footprint Award 2018". The accolade recognizes Carabao as the top riser reporting highest growth in the beverage sector. Carabao looks set to be the No 1 market leader as it sets out to widen its brand appeal to target all consumer segments.
Mr. Sathien Setthasit, Chief Executive Officer of Carabao Group Public Co. Ltd (CBG), revealed today that Carabao has won the "Brand Footprint Award 2018". The victory underscores the success of Carabao as a world-class product, world class brand. The industry accolade serves to highlight Carabao's potential for high growth in domestic and overseas markets. The brand strives to be the No 1 market leader of Thailand's energy drinks sector by 2020 which is in line with the company's aggressive expansion strategy.
"The Brand Footprint Award" is presented annually by Kantar Worldpanel (Thailand) Co Ltd that specializes in market research and analysis of consumer behaviour using consumer panels spanning several sectors. Kantar recognizes Thailand's most chosen brands in three categories with a total of 14 awards. These are the Top Winner (the most chosen brand bought by the most consumers), Top Riser (the most chosen brand with highest growth by sector) and Up and Comer (the most chosen brand with highest growth by consumer segment). Carabao won the Top Riser award in the beverage sector.
The awards were the result of Kantar Worldpanel's 2018 Brand Footprint report that provides information on consumer behaviour from a survey of  547 brands in Thailand that were chosen 245 million times annually by the most Thai consumers representing 24.7 households in urban cities and rural towns. The annual report reveals top fast-moving consumer goods (FMCG) in five sectors: food, beverages,
health & beauty, homecare, and dairy and dairy substitutes. The awards-presentation ceremony took place on June 29 at The Okura Prestige Bangkok.