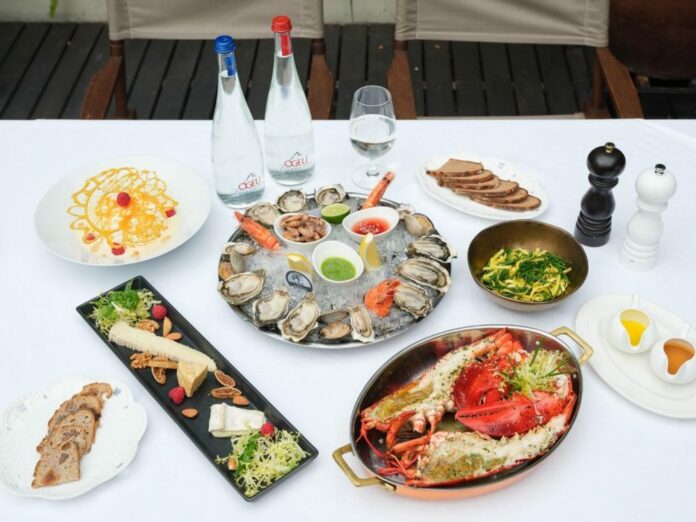 France's leading bottled water manufacturer Ogeu debuts premium natural mineral water in Thailand as an extravagant accompaniment to gourmet dining.
"Ogeu, recommended by Gerard Basset, the most awarded sommelier in the world"
The origins of Ogeu date back 200 years when a natural spring in the Pyrenees was discovered. Since its inception in 1820, Ogeu has grown in popularity as one of France's four market leaders in premium bottled natural mineral water that is available in 20 countries worldwide.
The clean, pure, well-preserved spring is tucked away in the wildest massif of the Pyrenees beyond the reach of urban encroachment and has existed in complete isolation from the trappings of civilisation. The water filters through layers of rock formations to underground cavities 500 metres deep.
Ogeu mineral water makes a lavish accompaniment to every luxurious meal. With a smooth flavor and low mineral content, the natural mineral water complements food flavors as well as wine perfectly. Ogeu is a fitting, luxurious accompaniment to every gourmet table truly.
Presented in a luxury bottle, Ogeu is quite distinct: its cap displays the French flag's colors denoting the glamor and quality of made-in-France products as well as French cuisine that has been declared by Unesco as a world intangible heritage.
Ogeu is ready to make its first foray into Thailand through IHC (Italthai Hospitality Co., Ltd.), its sole importer and distributor in Thailand. IHC has joined hands with 6 best French restaurants in Bangkok to present a special set menu promotion. These restaurants have their own distinct style: Artur Restaurant, Le Cabanon, Loulou Forks & Glasses, Oskar Bistro, The Reflexions and Savelberg. The 6 restaurants are ready to serve Ogeu mineral water as part of their special set menus inspired by Ogeu.
Meanwhile, style-conscious Thais with fine taste who have confidence in the quality of natural mineral water from France are able to soak up the atmosphere of luxury and special touches of Ogeu at leading restaurants, hotels and cafes nationwide from mid-August.
The 6 Restaurants:
Le Cabanon: This upscale French restaurant, set in a charming old house, specializes in great tasting Basque-style French cuisine that is scrupulously created by head chef Martine Pailloux, with over 40 years cooking experience. The restaurant's Ogeu set menu starts with a seafood platter,  or Raviolis 2 Foie Gras & Truffles in Cep Mushrooms Broth. For the main course, diners have a choice of Grilled Lobster Fettuccini Pasta & Bisque Sauce or Kobe Wagyu Tenderloin (for diners who bypass the seafood dish). Wrapping up the set menu are a cheese platter with an assortment of Les Freres Marchand cheeses and Raspberries & Floating Island, one of France's most popular sweet treats. Le Cabanon's Ogeu set menu is priced at Bt2,500.
Loulou Forks & Glasses: This friendly restaurant is set in the casual setting of a lush green and cosy backyard garden. A French restaurant with a distinctive Mediterranean slant, Loulou maintains simple yet promising menus lovingly designed by head chef Xavier Fauvel. The restaurant's Ogeu set menu opens with Polynesian Seabass Tartar with coconut milk and passion fruit sauce. The second course is Hokkaido Scallop on Toast, served with home-made bacon. The main course is New Zealand Beef Tenderloin with a sauce made from red fruits and red onions. For dessert, there's Sable Breton Pastry with Ice Madagascar Vanilla Ice Cream, Strawberry, Tonka Chocolate and Cointreau Liquor. Loulou Forks & Glasses' Ogeu set menu costs Bt1,600.
Savelberg: Mr. Henk Savelberg is the head chef and owner of this one-Michelin-starred restaurant that has a relaxed atmosphere with a high ceiling. Its open kitchen allows diners to observe the kitchen frenzy as the chef prepares superb French cuisine. Savelberg's Ogeu set menu opens with "Langoustines", with organic heirloom tomato, Lomo Iberico and Blanc Gazpacho. The second course is "Pan-seared sole, with truffle, green peas, confit silver onion, and gnocchi". The main course is "Bacon-wrapped Quail" that is stuffed with foie gras and pan-seared with olive oil. The dish is served with baby carrot purée, pickled carrot, almonds and pigeon sauce. For dessert, ginger mousse and Thai-style herbal ice cream are irresistible. Savelberg's Ogeu set menu is priced at Bt2,600.
Artur Restaurant: Famous for its succulent steaks, the restaurant – set in a luxurious classic French style yet friendly atmosphere – takes pride in providing an enjoyable dining experience For the Ogeu set menu, Artur proposes, after a nice amuse-bouche, a Marinated Atlantic Coast Sardine served with a refreshing sweet and sour lemon and fennel seeds dressing. The next course is Green Peas and Wasabi Gazpacho with Diced Pyrenees Ham. For the main course, there is a choice of Grilled Atlantic Seabass Basque Vegetable Piperade or Lamb Chops Coated with Chorizo Crust. The set menu wraps up with either Cheese of the Moment from the Pyrenees Region or Poached Prunes in Tea & Armagnac Vanilla Ice Cream. Artur Restaurant's Ogeu set menu is priced at Bt1,650.
Oskar Bistro: Known for its simple but stylish industrial-style décor and chilled-out atmosphere, Oskar Bistro is an ideal spot for hanging out with friends over scrumptious Mediterranean-style comfort food whipped up by French chef Julien Lavigne.  Oskar's Ogeu set menu starts off with "Sustainable Red Tuna Confit, White Bean Salad, Basil Aioli". The second course is "Hokkaido Scallop & Tuna Tartare, Mizuna Leaves, Lemon & Dill Dressing". Topped with fresh dill, the scallop is cooked with little pieces of shallots.  This is then followed by "Homemade Tagliatelle with Free-range Chicken Breast, Forest Mushroom & Truffle Sauce". The meal's sweet treat comes in the form of "Dry Plum Egg Custard Tart with Vanilla Ice Cream". Oskar Bistro's Ogeu set menu costs Bt1,450.
The Reflexions: The French restaurant of the Plaza Athenee, with a one-Michelin-star rating, impresses with its luxurious yet relaxed atmosphere. The ambience is so conducive to enjoying scrumptious dishes lovingly cooked with scrupulous attention to detail by chef Roxanne Lange.  The chef's Ogeu set menu kicks off with "David Herve oyster/sour cream/fennel/oscietra caviar". Next up is "Hamachi/pickled radish/cucumber/ginger vinaigrette". This is then followed by "Hokkaido Scallop/Australian winter truffle/cauliflower". The next course is "Dover sole/spinach/potato/white grapes/beurre blanc". The main course is "Lamb/bell pepper/Jerusalem artichoke/garlic". For dessert, there's "Oreo/yoghurt/red fruit" followed with coffee and artisanal fine tea. The Reflexions' Ogeu set menu costs Bt3,500.