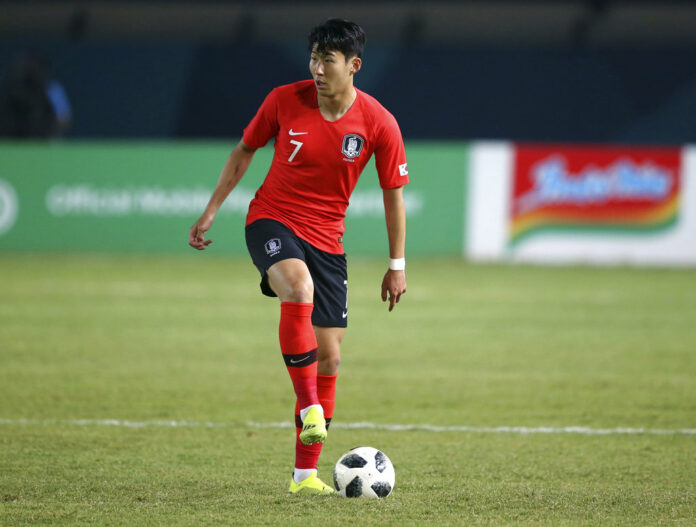 JAKARTA — Tottenham forward Son Heung-min took matters into his own hands to ensure defending champion South Korea progressed to the knockout stage at the Asian Games.
Son scored in the 63rd minute in a 1-0 win over Kyrgyzstan on Monday to set up a Round of 16 match against Iran, the other four-time Asian Games champion.
The South Koreans placed second in Group E following a surprising 2-1 loss to Malaysia last Friday, when Son made his debut at the tournament.
An Asian Games gold medal would earn Son an exemption from compulsory military service in South Korea, so he's doing what he can to make it happen.
Son wore the captain's armband and started at the Asian Games for the first time, joining Gamba Osaka striker Hwang Ui-jo and Gwangju FC forward Na Sang-ho up front.
The Koreans had 12 shots but couldn't beat Kyrgyz goalkeeper Kalysbek Akimaliev in the first half. Hwang Ui-jo was replaced by Hwang Hee-chan at the break and the attack improved.
Son finally broke through with a volley off a corner kick. South Korea went close to doubling the lead late but Hwang Hee-chan and Son' missed opportunities.
Malaysia finished atop the group despite its 3-2 loss to Bahrain, getting the better of the tiebreaker with the South Koreans because of the win in their head-to-head meeting. In the other late game Monday, host Indonesia beat Hong Kong 3-1 to top Group A.
The Malaysians will next play Japan, which finished second to Vietnam in Group D.
The top two teams from each of the six groups and the four best third-place teams advanced.