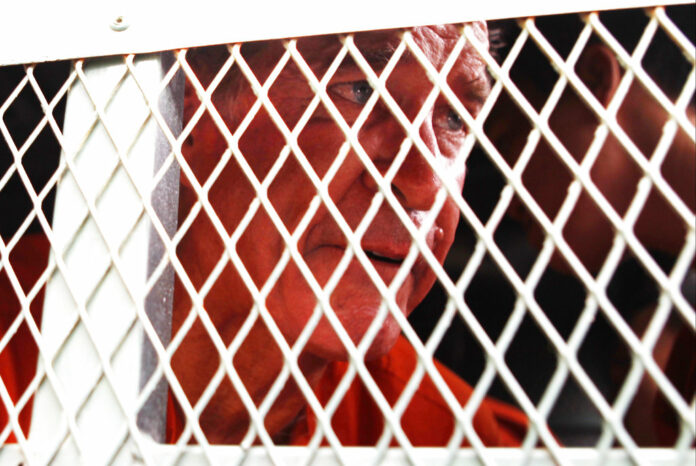 PHNOM PENH — An Australian filmmaker in Cambodia facing a possible five to 10 years in prison on a charge of endangering national security testified Monday that he wants to buy land to resettle poor local families.
James Ricketson, 69, was arrested in June last year for flying a camera-equipped drone over a political rally held by the opposition Cambodia National Rescue Party.
The party was dissolved as part of a sweeping crackdown on the opposition and media critical of Prime Minister Hun Sen's government, ahead of last month's general election, in which the ruling party won all 125 National Assembly seats.
The charge against Ricketson, who had been seen as sympathetic to the opposition party, is tantamount in legal terms to espionage.
In remarks to reporters on his way in and out of court, Ricketson has repeatedly insisted he has seen no evidence supporting the charge against him and questioned what country he was supposed to have been spying for.
"I've been incarcerated for 14 months now with no evidence presented to the court," Ricketson said Monday from inside the police vehicle that brought him to court. He was wearing an orange prison jumpsuit and was handcuffed as officers led him inside the court building.
In his testimony Monday, Ricketson outlined a freelance movie-making career that began in 1973 and has taken him to 20 countries.
He said he spent part of an inheritance on helping his informally adopted Cambodian daughter, Chab Thy, with her daily living expenses and her children's education.
He also told the court that before he was arrested he hoped to raise USD$140,000 to buy a piece of land to house 18 poor Cambodian families currently living at a garbage dump.
The project was halted when he was arrested but he is still planning to help the families and will continue it when he is released, he said.
Chab Thy, the 33-year-old mother of nine he has been helping, testified earlier Monday as a character witness for Ricketson.
She said she got to know Ricketson when she was a 10-year-old beggar who lived on the streets.
Ricketson paid to help her study English as well as rent a house and launch a small business selling soft drinks, she said, adding that he had also helped other poor Cambodian families.
"Before I met him, I was a beggar and slept on the side of the street, but after I met him I was not worrying anymore about my future because I got help from him," she said.
"He has never committed any bad thing and he often took his camera along with him," she testified.
Last week, Australian movie director Peter Weir appeared as a character witness, testifying to Ricketson's professionalism and their long friendship.
Story: Sopheng Cheang