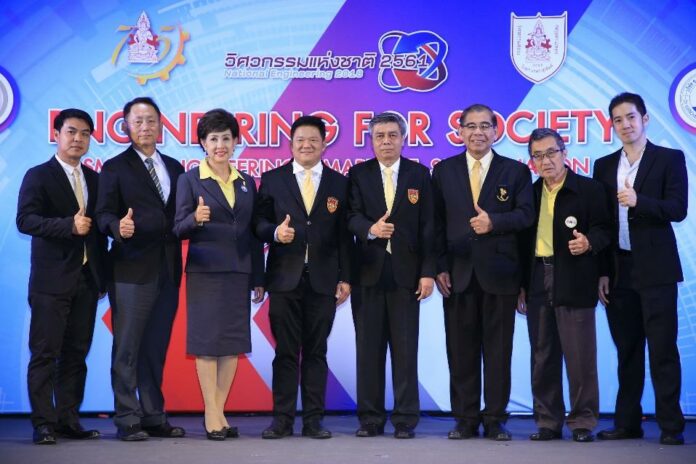 Daikin, a leader in air conditioning technology from Japan, today announced that Daikin is sponsoring "National Engineering 2018" on the theme "Engineering for Society", underscoring its commitment to changing the Thai society with engineering and driving Thailand forward as a smart nation". Daikin is spending a fortune to dream up "Daikin Pavilion" to exhibit future cutting-edging air condition innovations and technologies in accordance with the Thai government's national reform policy that aims to create sustainable development programs such as the Smart City, Smart Nation model. The 13th edition of "National Engineering" runs from November 1 to 3 at Impact Forum, Muangthong Thani in Bangkok.
Mr. Bundit Srivallapanondh, Managing Director of Siam Daikin Sales Co., Ltd., reveals that as a globally trusted leader in residential and commercial air conditioners, Daikin has agreed to sponsor "National Engineering 2018", which is being organized by the Engineering Institute of Thailand. This year's fair is on the theme of "Engineering for Society" and presents some of Thailand's greatest achievements in engineering and technology that are in synch with the Thai government's policy of driving the economy with intelligence and upgrading Thai society to a sustainable "smart life, smart city" development model. The fair offers a useful forum for the exchange of current and future trends in global engineering innovation among the professional networks of engineers from Thailand, Asean and elsewhere numbering 1,500. The fair is the largest repository of engineering technology projects in Asean.
"Daikin takes part in the fair by dreaming up an exhibition area over 36 square meters to present a range of air conditioning innovations of the future including residential and commercial air conditioners that satisfy all needs. On view will be cutting-edge innovations and ingenious device connectivity technologies that will increase work efficiency and provide maximum energy saving. These innovations are in response to new world changing trends and lifestyles of the future generation that will become a reality for sure," says Bundit.
Among other things, the fair will feature seminars covering 56 topics encompassing changing trends and standards in the world's growing body of knowledge in engineering and technology.  Other discussions promote an exchange of views on people's changing lifestyles in the future. An international symposium will also be held under 72 different themes with the goal of developing and supporting Thailand's professional engineering circles to drive Thailand's growth to a new S-curve in accordance with the government's economic development policy that aims to turn Thailand into a high-income country by 2036.
On display at the fair will be, among other things, engineering inventions and projects by the world's leading engineering and technology enterprises numbering over 100. More than 25,000 people from Thailand, Asean and beyond are expected to visit the fair. Daikin will be represented at the fair with its range of air conditioning technologies on show from November 1 to 3 at Impact Forum, Muangthong Thani.