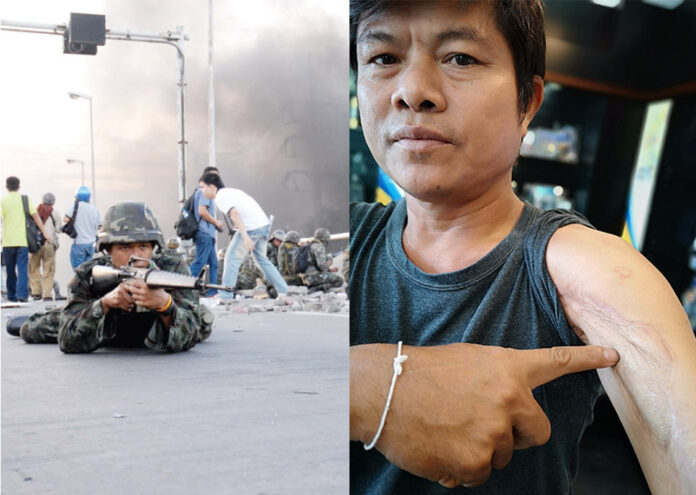 BANGKOK — Soon after Sawai Thongom recovered from a gunshot wound sustained in a 2009 protest against the government of Abhisit Vejjajiva that left one hand unusable, he began fighting for compensation. Months later, a court ruled the armed forces must pay him 1.2 million baht for the crackdown that left him handicapped.
Before he received a single baht, another court overturned the judgment on appeal, ruling that the bullet wounds sustained by Sawai and another injured plaintiff were caused by a type of gun not issued to soldiers. By the time the case wound through the Supreme Court two years ago, they were on the hook for over 300,000 baht in fees and damages for harming the military's reputation.
Now the government has taken his land.
"I feel that I lost not only my physical ability and became handicapped but my money and land have been seized. It's so painful," said Sawai, who lost feeling in his left hand since a bullet pierced the nerves in his upper arm. "The farm land belongs to my ancestors and has been passed down through the generations. It would be most painful if it were to be seized."
In June, the agricultural cooperatives bank notified Sawai in writing that all the money in his bank account, just over 5,000 baht, had been seized. Another letter came late last month telling him he must surrender the deed to his 8 rai (1.3 hectare) of land in the Sangkha district of Surin province. Valuing his property at 460,980 baht, the letter said it would be auctioned off to compensate the military.
But Sawai, a car mechanic until the injury forced him to return to rice farming, is not ready to give up.
Veteran political activist and former lese majeste prisoner Somyot Prueksakasemsuk is helping him raise funds and file petitions. Somyot said that destroying the life of someone for seeking justice through the courts set a dangerous precedent for state impunity.
"Will citizens dare to sue the state in the future if there's such a crackdown?" Somyot said. "You get shot and become physically handicapped. Then you go to the court and end up having to pay the army."
Sawai is unwilling to hand over his land title. He also realizes the government can sell it regardless. He knows that he's merely buying time for what he fears is the inevitable outcome.
"An official at the Legal Execution Department said the land will be sold in November, and that I can buy it back if I have the money," Sawai said.
On Aug. 23, he bitterly petitioned Defense Minister Gen. Prawit Wongsuwan asking for justice after an earlier letter submitted to junta leader Prayuth Chan-ocha went unanswered. Sawai said he's not heard back from Prawit or the ministry. The latter letter stated that the action against him was harming and impoverishing his family.
Sawai said he had no intention to defame the army but merely wanted justice at the time.  
Asked if he intends to petition Abhisit for help in reaching the Defense Ministry, Sawai looked bitter and said no.
"I never intend to see him," he said. "I don't want to see him."
Sawai insists he doesn't hold any grudges, be it toward Abhisit or the army, despite what he's endured during the past decade. "I did not join the protest due to hatred. I just oppose a party with minority seats forming a government on a military base," said Sawai, referring to the Democrat Party under Abhisit, which managed to a form coalition government despite winning fewer seats in a deal allegedly brokered with help of the military.
"I am just a normal person who, unarmed and wearing a Redshirt, exercised my rights to sue the armed forces," Sawai said.
Sawai said earlier this week that he would travel to the capital again Thursday to follow up with the Defense Ministry, keeping his hope alive for a different outcome.
Correction: An earlier version of this story incorrectly stated that the original court ruling held former Prime Minister Abhisit Vejjajiva liable. In fact it was only the armed forces ordered to compensate Sawai.