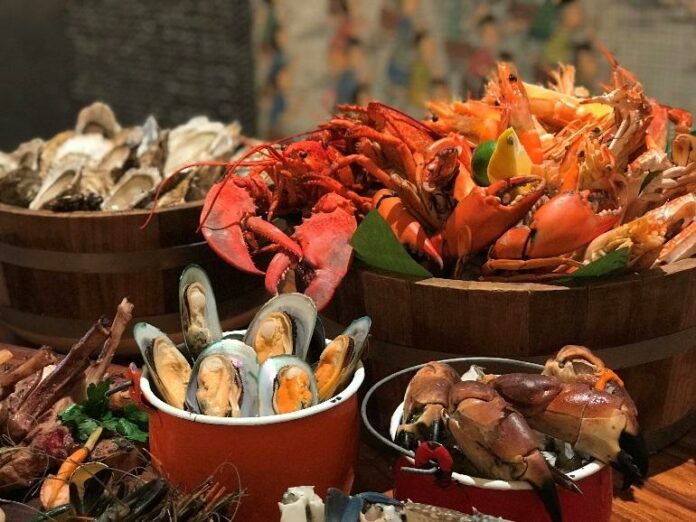 Surf 'n Turf Sunday Brunch at Bangkok Marriott Hotel The Surawongse offers a bountiful supply of freshest seafood, premium meat, unlimited lobsters, and classic Thai delights in a relaxing ambience at Praya Kitchen.
Bangkok Marriott Hotel The Surawongse launches a Surf 'n Turf Sunday Brunch to suit every appetite from 11am to 3pm every Sunday at Praya Kitchen, starting this 30 September.
The Sunday Brunch abounds with classic Thai dishes and a wide selection of sea and freshwater crustaceans. The restaurant prides itself upon sourcing the freshest and seasonal ingredients.
Thai food enthusiasts will have more than they can chew. Executive Chef Attapol Naito Thangthong and Chef Somkid Ketkaew have revived some of the rarest home recipes from their youth. The results are favourite Thai dishes of yesteryear that easily evoke fond memories of the diner's childhood when Thai mothers or grandmas were responsible for dishing up unforgettable meals for family members. Enjoy the special dishes cooked live from Chef's Signature Station where unlimited Lobster items, including  gaeng kua koong mangkorn (spicy curry with lobsters and wild betel leaves) are offered.
The Surf 'n Turf section features the Seafood Wall with an array of seafood and freshwater crustaceans and the Butcher Selections with 55-day dry-age soft Thai sirloin, steaks from Australia and the United States as well as lamb rib eye from New Zealand. The Seafood Wall celebrates the bounties of the ocean, offering 12 kinds of great-tasting seafood including sea crabs, tiger prawns, rock lobsters etc.
Praya Kitchen also mimics the street food vibe by offering street food delights such as BBQ pork with sticky rice, deep-fried prawn cakes, fish cakes, and roti mataba. After the meal, diners are encouraged to relax at the Juice Bar with a live band providing entertainment.
The Sunday Brunch costs THB1588++. For more information, call 02-088-5666 or visit www.bangkokmarriottsurawongse.com .