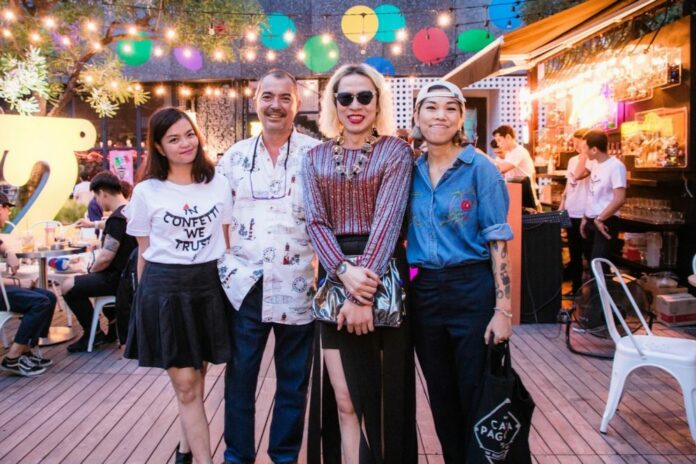 Johnnie Walker has teamed up with 72 Courtyard and Rotganzen to organize "IN CONFETTI WE TRUST", an immersive art installation that will take up the entire space of 72 Courtyard. The multi-sensory exhibition will be open from September 15 to the year end.
To celebrate the upcoming festive season, Johnnie Walker in collaboration with 72 Courtyard and Rotganzen is organizing "IN CONFETTI WE TRUST" to highlight the colors of taste through an immersive art experience. At the opening, guests will have the opportunity to taste confetti-themed cocktails exclusively concocted using Johnnie Walker Gold Label Reserve, that was proclaimed the world's best blended whisky at World Whisky Award 2018. The confetti cocktails will be served at the confetti pop-up bar where light music is provided by DJs Guyboy and Supersonic from 5 pm. The immersive art installation will be on view from September 15 at 72 Courtyard, the hip community mall on Sukhumvit Soi 55 (Soi Thonglor).
In an attempt to introduce new confetti experiences, Rotganzen uses an immersive art installation to reinterpret the symbol of confetti that people around the world use in celebrations. The designers use confetti to convey a sense of wonder, merriment, and creativity. In this exhibition, small pieces of colored paper will be enlarged and displayed in the public spaces of 72 Courtyard. The designers have put a lot of effort into creating this artwork to capture moments of happiness for everyone to experience. The designers Robin Stam and Joeri Horstink will be on hand at the opening day to introduce his artwork.
Established in 2009, Rotganzen is a Rotterdam and New York-based design collective. The studio is managed by designers Robin Stam and Joeri Horstink together with managing partner Erik Schilp. Currently based in New York City, the three hail from Rotterdam. Rotganzen bridges art and design and finds inspiration in daily life and popular culture. Robin Stam and Joeri Horstink, born and raised in the suburbs of Rotterdam, have considerable talent for finding the extraordinary in the ordinary.
By changing the appearance and context of everyday objects and products, they create work full of contrast and surprise, visually as well as conceptually. Rotganzen always offers a cheerful but questioning approach to life and the world around us.
About Diageo Moët Hennessy (Thailand) Ltd (DMHT)
Diageo Moët Hennessy (Thailand) Ltd (DMHT) is the leading importer and distributor of premium wines and spirits in Thailand. Responsible corporate citizenship is a key element of DMHT's business philosophy.  DMHT strives to ensure its business and products appropriately balance the company's commitment to act responsibly and the right to trade freely.  This commitment is reflected in its corporate ethics and governance, relations with employees, customers, consumers, suppliers and communities, as well as health and safety policies and environmental policies. DMHT is committed to good corporate citizenship and responsible alcohol consumption. DMHT's global corporate citizenship report and Asia Pacific citizenship report can be found and downloaded atwww.diageo.com.
Diageo Moet Hennessy (Thailand) is the leading importer and distributor of world-leading premium alcohol products. You can visit www.DIAGEO.com for more info. Being part of good corporate governance, DMHT takes responsible drinking seriously.
To find out more about responsible drinking, please visit www.DRINKiQ.com.