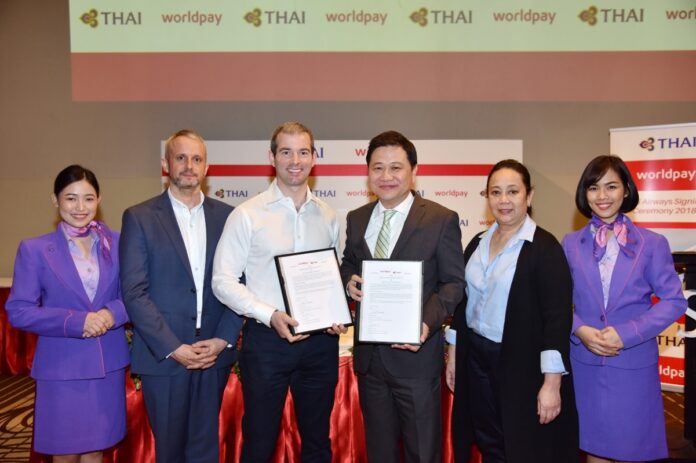 BANGKOK — Thai Airways International (THAI), the flagship carrier airline of Thailand, has selected Worldpay, Inc. (NYSE: WP; LSE: WPY) as its international payments partner, as it targets overseas growth.
To support its sustainable growth strategy, THAI needed an experienced partner to help it manage the complexities of cross-border payments, and optimise the online booking journey across both mobile and desktop. Worldpay, a leader in card and alternative payments with global coverage, was selected for its international reach and unrivalled experience in the airline industry. Worldpay works with 88 of the world's biggest airlines and has more than 25 years of experience in the sector.
Consumer preferences are changing; whilst flights have traditionally been booked using credit cards, alternative payment methods (APMs) are growing in popularity. With 28 percent of Thai consumers using bank transfers as their preferred method for shopping online, the ability to offer local payment options will allow companies to make the most of Southeast Asia's second largest economy. Additionally, global mCommerce penetration is set to rise from 38 percent in 2018 to 49 percent in 2022, which suggests that mCommerce is on track to overtake desktop sales by 2023. To adapt to this shift, Worldpay will support THAI in widening its breadth of payment methods and transaction currencies to appeal to the changing purchasing patterns of customers.
THAI will initially focus its payment optimisation efforts on Australia and Europe – two key markets for the company. In Australia, the carrier's passenger traffic is growing by two percent year-over-year, while in Europe passenger traffic is growing at a rate of 2.5 percent each year. A range of APMs such as iDEAL, Trustly, SOFORT and Giropay will be rolled out over the coming months to make it easier for European travellers to book online. The THAI payment team will then expand their initiatives to India, China, and the rest of Asia Pacific.
Worldpay will also help THAI execute their commercial strategy through advanced data analytics capabilities, which provide rich insight into transaction approval rates and payment costs. This data will enable the airline to expedite new sales strategies, and optimise their payments infrastructure and cross-border operations.
Wiwat Piyawiroj, THAI Executive Vice President, Commercial comments: "Tourism is booming in Thailand, with a 7.7% increase in domestic flights year-over-year for our service. Yet the market is also incredibly competitive, so it is vital to ensure we can best service our customers and their needs. Thanks to Worldpay, we will be able to offer a variety of payment methods that caters to the tastes of travellers all over the world, making it easier for them to book the holidays they want. As we grow, Worldpay will be a vital strategic payments partner and key to our continued success."
Phil Pomford, general manager for Asia Pacific, Global Enterprise eCommerce at Worldpay, said: "With global passenger numbers on track to double over the next 20 years, and Thailand forecast to enter the top 10 aviation markets by 2030, it is a hugely exciting time for THAI. We are delighted to support our partner as they continue to grow. Travellers are continuously evolving the ways in which they buy flights, and airlines must keep pace to match these shifting patterns. The airline industry has never been more competitive, and we look forward to helping THAI capitalise upon the opportunities ahead."
About Worldpay
Worldpay, Inc. (NYSE: WP; LSE: WPY) is a leading payments technology company with unique capability to power global Omni-commerce. With an integrated technology platform, Worldpay offers a comprehensive suite of products and services, delivered globally through a single provider. Worldpay processes over 40 billion transactions annually, supporting more than 300 payment types across 146 countries and 126 currencies. The company is focused on expanding into high-growth markets and customer segments, including global eCommerce, integrated payments and B2B. Visit us at www.worldpay.com.
About THAI
Thai Airways International Public Company Limited (THAI) is the national carrier of the Kingdom of Thailand. Founded in 1960, THAI has a fleet of 100 aircraft and currently operates an average of 1092 roundtrip flights per week on domestic, regional and intercontinental routes to 79 cities, 80 airports, in 31 countries. The key to THAI's success is its major award-winning in-flight and on-ground service, convenient schedules and on-time performance. THAI is one of the five founding members of the Star Alliance network, which was established in 1997. For more information, visit thaiairways.com