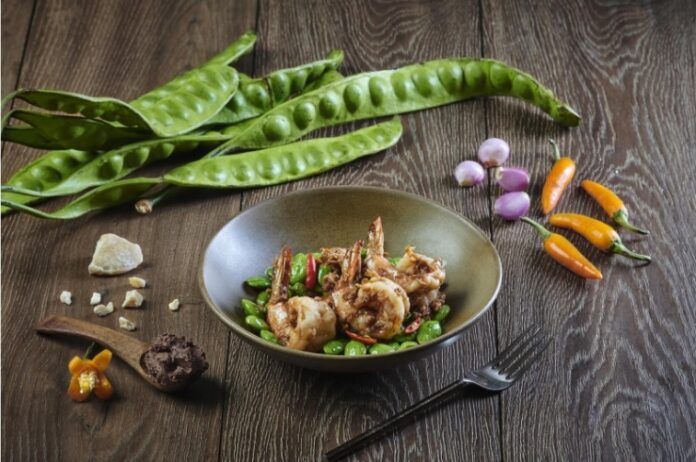 Bangkok, Thailand, June 10, 2019 – Enter the realm of herbs and spices and enjoy bold and flavorful tastes of authentic southern Thai cuisine prepared with prime ingredients to cook up eight special menus welcoming the monsoon season in Thailand at Goji Kitchen + Bar and Siam Tea Room at Bangkok Marriott Marquis Queen's Park from 1 August 1 to 30 September 2019.
The eight most favorite southern Thai dishes include southern-style herbal rice salad with fresh tender leaves, fluffy fish and fermented fish dressing (Khao Yum Samoon Prai Pla Fu) – a signature dish originated in the south of Thailand – which delights with fresh organic greens, herb-infused rice, and fried dish topped with savory and aromatic fermented fish dressing. Other must-tries are crab roe chili dip with boiled egg and organic Thai vegetables (Nam Prik Kai Pu, Kai Tom and Paksod) and the southern sour soup with fish organs and fresh vegetable (Kang Tai Pla Paksod) that those with craving for spiciness cannot miss.
There are mild yet flavorful dishes to enjoy, too. There are Songkhla-style braised pork belly in sweet soya sauce, stir-fried Baegu leaves with egg and sun-dried shrimps (Moo Hong) and stir-fried bitter beans with shrimp paste, minced pork and banana prawn (Sator Pad Kapi Sai Kung). Another popular southern dish is Hat Yai-style crispy fried chicken thigh with sticky rice (Khao Niew Kaitod Hat Yai) that is so authentic it makes you feel as if you are in Hat Yai. Last but not least is a piping hot bowl of spicy lemongrass and galangal soup with smoked pork leg and salted fish (Tom Som Pla Kulao Khamoo Pao) that will give a perfect ending to your flavorsome meal. Every dish is served with fresh organic local greens.
Welcome the rainy season and savor the authentic southern Thai taste with "Southern Food" menus at Goji Kitchen + Bar on Sunday brunch from 11.45 hrs. to 14.30 hrs. at THB 2,128++ and buffet dinner from 18.00 hrs. to 22.00 hrs. at THB 1,498++ (Sunday to Thursday) and THB 2,128++ (Friday and Saturday) during 1-31 August 2019. The menus are also served a la carte, starting from THB 253++ per dish, at Siam Tea Room from 11.00 hrs. to 22.30 hrs. from 1 August to 30 September 2019.