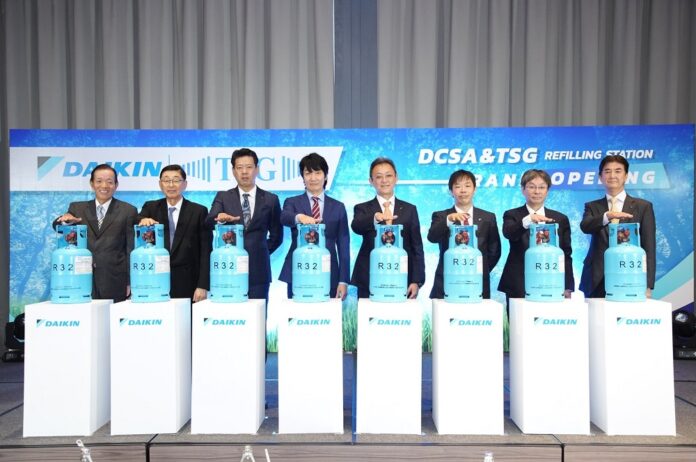 "Daikin Chemical South East Asia co., Ltd" the global standard refrigerant importer and manufacturer, presents environmental-friendly innovation as it taps into the refrigerant market with new refilling station of environmental-friendly refrigerant and refillable cylinders and aspires to become the number one manufacturer and distributor of air conditioner, with plans to penetrate Southeast Asian market.
Mr. Takeshi Konishi, President of Daikin Chemical South East Asia co., Ltd reveals that as Daikin Industries, which has always been trusted by customers almost a century as a global standard refrigerant manufacturer had a policy to expand the market and establish Daikin Chemical South East Asia in Thailand. To carry on that high standard the firm is constantly evolving with new technology and innovation to produce merchandise and efficient, environmental-friendly refrigerant to support the clients, while at the same time offers high quality products that cater to the consumers' need with environmental friendliness at the core.
This year we are ready to present a special refrigerant that reduces the greenhouse effect, which is packed in a refillable cylinder to decrease disposable cylinder that can be considered as environmentally friendly and the establishment of refrigerant station especially for production in responding to customer satisfaction and to reduce impact on the environment. At present, we are aiming to increase market share in Thailand and ready to expand the market throughout Southeast Asia Which is a market with potential and demand for air conditioners that are constantly growing, "said Mr. Konishi
Not only air conditioner and residential products, the firm is looking to expand to automotive market, protective coating for petrochemical industry and construction, water and oil proof for fabric and paper for food container, and electronic boards where the firm has strategized market penetration plans for each product and target group.
As for refrigerant, Daikin Chemical has imported and supplied a variety of refrigerants such as R32 R410 R407C R404A and other refrigerants for air conditioning including refrigerant R407H for refrigerator. The part of new station that we have started to fill in Thailand, there are R32 and R410A then in the future R407H is being developed to become refillable also for reducing environmental problems. As for the environmental issue, our company has strongly promoted the use of R32 refrigerant which has the low GWP (Global Warming Potential), which defines the trend that causes global warming, when compared to R410A (GWP2090), also can comply with regulations concerning the use of Hydrofluorocarbon (HFC). Therefore, Daikin Chemical's refrigerants are environmental-friendly and does not cause the greenhouse effect.
Daikin Chemical also sees the importance of environmental-friendly containers, as it introduced refillable cylinders to control fluorocarbon emission, which helps reduce the evaporation of the remaining gas to the atmosphere for safety and environment-friendly reason.
For refiling and logistic providing, we trust in Thai Special Gas (TSG), manufacturer and distributor of industrial gas with more than 20 years of experience in the gas business and international recognition of standard, and this time is the first collaboration between the two companies. For controlling system, TSG is using computerized control with First In First Out (FIFO) filling system.
Daikin Chemical has constanly developed quality products with emphasis on Solution Business that uses new technology to cater to various needs of the customers and environmental friendliness. We hope that this collaboration will satisfy our diverse target groups that include those in residential and industrial segments, both inside and outside of Thailand more and more.
Models and configurations of air conditioners are vital factors in the refrigerant market. In Thailand, 70% of air conditioners use R410A refrigerant, and the rest uses R32 with the trend for R410A to be replaced by the more environmental-friendlier R32. Even though R32 is not yet widely distributed in the market, it sees increasing demand as Daikin's R32 has low GWP as the result from the reduction of HFC use. It can be said that Daikin Chemical's refrigerants are environmental-friendly and refillable, which reduces the emission of the remaining gas to the atmosphere.