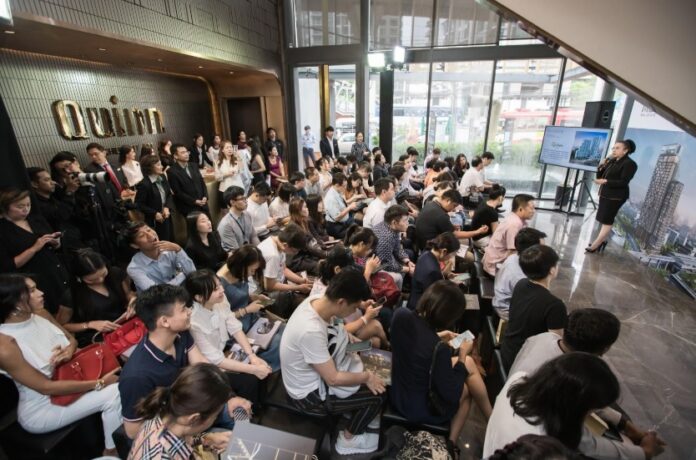 Dot Property, a LIFULL Connect company, is partnering with leading luxury developer Regal London to bring an exclusive London property showcase to Bangkok. Regal London Agent Day is organised by Dot Property and will provide local real estate agents with a chance to learn more about the developer's projects and how they can work together.
For local property professionals, not only do they have a chance to meet with senior representatives from Regal London, but they can also participate in educational sessions where they receive in-depth information regarding the London property market from experts.
"The Thai market has become a more mature investor in overseas residential projects of late and is seen as a strong country of growth in Southeast Asia," Matthew Burgess, Regal London Head of Sales, Hong Kong, explained. "Throughout Regal London's established network of offices in London, Asia and the Middle East, we recognise the importance of establishing lasting relationships with the best agents on the ground and supporting them with the tools required to successfully market our projects."
A desire from Thailand-based real estate agents to tap into local demand for both UK and overseas property has seen several developers host showcase events in the Thai capital organised by Dot Property this year. The company has arranged four similar events with more than 125 agents turning out in 2019. This highlights the strong demand from local real estate agents to expand their portfolios and work with overseas developers.
"Demand for overseas real estate among buyers in Thailand continues to grow. For some developers based overseas, working with local real estate agents is a more practical way to enter the market," Adam Sutcliffe, Director, Events and International Markets at Dot Property, said. "We are excited to be organising this agent day for Regal London as they are London's leading luxury developer. As you would expect, the interest has been significant."
Sutcliffe adds the ability to meet and speak with the developer directly is important to local real estate agents as it gives them a clearer picture of the projects they can represent along with how a possible partnership will function. And by tapping into Dot Property's extensive network of Thailand-based real estate agents, international developers can be confident they are reaching the country's best property professionals.
Regal London Agent Day will take place at Siam Kempinski Hotel on June 26. Agents interested in attending this event or others organised by Dot Property should contact Jade Chan, Dot Property UK Country Manager, at [email protected] or call +66 65512 9204.
About Dot Property
Dot Property, a LIFULL Connect company, is Southeast Asia's leading online property marketplace with 11 websites spanning Southeast Asia and Hong Kong that garner more than 18 million visits annually. Dot Property also organises the successful Dot Property Awards series along with seminars and events across the region. For more information or interviews, please contact Dot Property at [email protected]
About Regal London
With more than 20 years' experience, Regal London has a proven track record of delivering outstanding residential-led, mixed-use schemes. The firm focuses on luxury developments and has more than 3,000 residential units completed or underway in the city. Regal London has offices in the UK, Hong Kong, China and the Middle East.