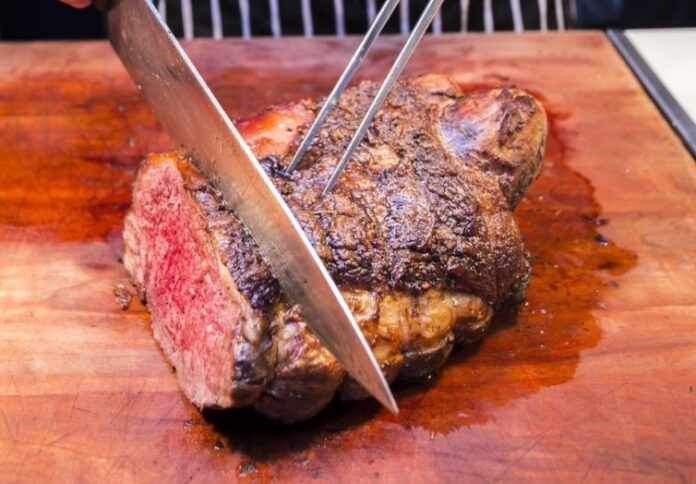 Bangkok, Thailand, 2 July 2019 – Bangkok Marriott Marquis Queen's Park brings multi-cultural culinary experiences to "Australian Festival" at Goji Kitchen + Bar. Enjoy sumptuous buffet with selected Australian highlights during 5-14 July 2019. And savor the signature dishes from celebrity chef Michael Lambie on 12 -14 July.
The buffet restaurant Goji Kitchen + Bar at Bangkok Marriott Marquis Queen's Park, Bangkok's largest luxury hotel, offers multi-cultural cuisine from around the world in contemporary setting and mesmerizes patrons with theatrical live cooking in the open kitchen. This time around the restaurant is hosting Australian Festival with delectable dished in the buffet line prepared from Australia's finest ingredients that include seafood items such as Tasmanian oyster, smoky bay oyster, coffin oyster, live blue swimming crabs from Queensland, Tasmanian salmon, sashimi and smoked Hiramasa king fish from Spencer Bay as well as barramundi and King Gorge whiting that is ideal for grilling, baking and barbecuing. From Spencer Bay are also high quality black and green mussels. 
Meat lovers will get to taste premium cuts and meats from renowned cattle farms Rosedale and Stockyard that will be grilled, baked, stewed and transformed into meatballs for your enjoyment. For lamb, the festival will include white stripe lambs from the natural greens by the Victorian Mountain in the Southeast of Australia. Lamb dishes include grilled lamb and strew lamb leg among many others. If you're looking for ostrich meat, the festival serves up high quality free-range ostrich meat in grilled dish and Australian-style burgers. Last but not least is the goodies from King Island, a small island between Tasmania and the mainland that is renowned for delicious cheeses. 
At the Australian Festival between 12-14 July, Chef Michael Lambie of the renowned Lucy Liu Kitchen & Bar in Melbourne will also fly in to create five Asian-inspired signature dishes. Starting with Kingfish carpaccio with coconut foam and green chili where fresh kingfish is thinly sliced then seasoned Thai-style with lime and chili and coconut cream for extra creaminess. Next up is Pacific oyster with smoked ponzu dressing, a decent match of sizeable Pacific oyster and Japanese ponzu that delights with salty and sweet palate and slight smokiness. The third dish, inspired by street food in Beijing, is soft shelled crab Jianbing pancake roll where softshell crabs are deep-fried a la tempura, wrapped with Beijing flour with Vietnamese mint leaf then seasoned with Chinese hoi sin sauce and Malaysian sambal. From Korea is Korean spiced crispy pork hock, crispy pork served with apple kimchi and spicy hoi sin sauce to be enjoyed with Peking duck pancakes. Don't miss out on the dessert, delectable Chocolate Dulce de Leche. All five menus will be added to regular buffet with no extra charge. 
Enjoy selected Australian highlights on the buffet line at Goji Kitchen + Bar, Bangkok Marriott Marquis Queen's Park, from 5 to 14 July 2019 at 18.00 – 22.00hrs. The dinner buffet costs 
THB 1,498++ per person between Sunday – Thursday and THB 2,128++ per person on Friday and Saturday. 
For more information and reservation, please contact +66 (0) 2 059 5999 or email [email protected].
Or connect with us via these channels:
Website:  www.bangkokmarriottmarquisqueenspark.com 
Facebook:  https://www.facebook.com/GojiKitchenAndBar/ 
Line official account:  @gojikitchenbar