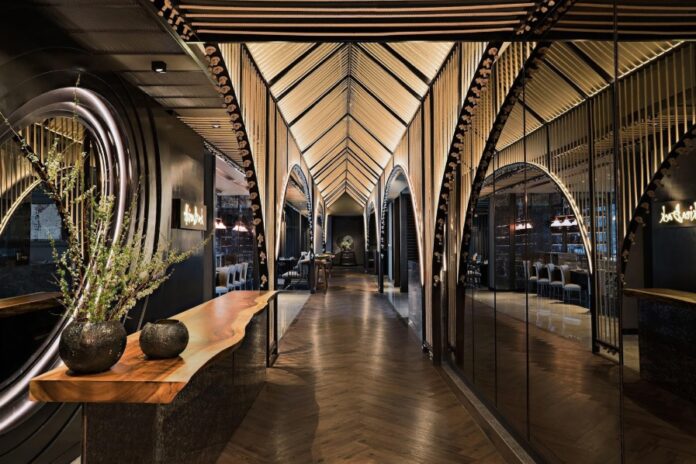 Bangkok, Thailand, July 10, 2019 – Limited time only! Talented chefs from Akira Back Bangkok and Singapore team up for a special 5-course dinner made with prime ingredients and culinary expertise. Dinner by the guest chefs from Akira Back Singapore and Bangkok will be served from August 1 – 3, 2019 at Bangkok Marriott Marquis Queen's Park only. 
Located at Bangkok Marriott Marquis Queen's Park, Bangkok's largest luxury hotel, Akira Back Restaurant and Bar is propped on the 37th floor. Using only high-quality ingredients, the chefs create contemporary, innovative dishes. This time around, the restaurant is offering a new gastronomic marvel with 5-course set dinner that is a collaboration between chefs of Akira Back Bangkok, Chef William Rusli and Singapore, Chef Bobby Hyungmin Bae. Creative and talented chefs from two venues join hands to create delectable dishes with contemporary flair and exciting colors to please the patrons. 
The first dish by Chef Bobby, born in Seoul, South Korea and has been exposed to various styles of cooking from Korean, Chinese to Japan and Western. Now he is a chef at Akira Back Singapore. Chef Bobby's first dish is the healthy Norwegian Salmon, where Norwegian salmon is smoked with applewood for unique taste, texture and aroma then served with apricot, Dijon mustard and Togarashi quinoa.
The second dish from Chef William, base background from French cuisine and worked at several top restaurant in Asia, and has accumulated experience at the Restaurant Joël Robuchon au Dôme 3 michelin star restaurant in Macao. He infuses Thai flair in Hokkaido Scallop where the succulent and sweet shellfish from Hokkaido is punctuated by an explosion of flavor of Thai green curry and citrusy notes of kizami yuzu, served with creamy coconut milk foam. 
Next up is a dish by Chef Bobby. His signature dish for the set is Sakana Chazuke, an Akira Back take on the Japanese classic rice with tea. Featuring sashimi with pickled plum paste and yukwa – a traditional Korean puffed rice childhood snack. 
For lamb lover, Chef William presents Lamb Loin. The lamb loin is charcoal-grilled South American style then served with smoked chipotle anticucho sauce. 
End the meal on a sweet note with The Glass, barley ice cream is missed with sweet winter melon vanilla foam and coconut praline cream the encased in a pulled sugar glass tower that caps off the meal with a bang. 
Chef Bobby-Hyungmin Bae from Akira Back Singapore together with Chef William Rusli will be cooking up the exclusive dinner at Akira Back Restaurant and Bar at Bangkok Marriott Marquis Queen's Park between August 1 – 3, 2019 from 6:00 PM to 11:00 PM. The 5-course dinner set is served at THB 2,400++. For more information and reservation, please contact +66 (0) 2 059 5999, email [email protected] or visit www.bangkokmarriottmarquisqueenspark.com
Or connect with us via these channels:
Website:  www.bangkokmarriottmarquisqueenspark.com
Facebook:  www.facebook.com/akirabackbkk/
Instagram:  www.instagram.com/akirabackbkk/ 
Line official account:  @akirabackandabar