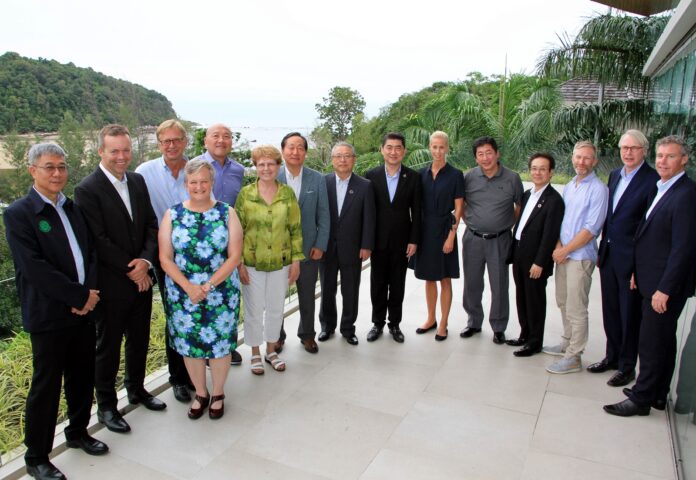 Charoen Pokphand Foods PCL (CPF) and Thai Union Group PCL issued a joint statement on tackling modern slavery to ensure their supply chains are free of illegal labor.
Atthe Seafood Business for Ocean Stewardship (SeaBOS) Dialogue annual meeting in Phuket, the two companies said that "modern-day slavery is a global challenge, requiring collective efforts to eradicate it. In doing so during recent years, Thailand has mobilized contributions from the government, the private sector, civil society and other relevant stakeholders."
"We have made significant progress in all areas: including legislation, law enforcement, supply chain management, capacity building of stakeholders, application of technological innovation, among others. We stand ready to share our experiences with the international community and join hands with others to turn modern-day slavery into an issue of the past."
Prasit Boondoungprasert, CEO of Charoen Pokphand Foods PCL (CPF), said "Respect for human rights is our top priority, especially in our labor recruitment process and welfare practices. In doing so, we have supported the Fishermen Life Enhancement Center (FLEC) in Songkhla province of Thailand. The center provides a number of training packages to promote the well-being of fishing crews." Moreover, CPF is committed to its Sustainable Packaging Policy, under which "100 percent of its plastic packaging must be reusable, recyclable or compostable plastic packaging by 2025."
Thiraphong Chansiri, CEO of Thai Union, said: "At Thai Union, we are resolute in our commitment to fight human trafficking. Supply chains in the seafood industry are incredibly complex, but we have implemented measures to combat potential risks including improved supply chain management, and we have conducted third-party audits of our suppliers. But we know we can't fight this on our own, which is why we take a collaborative approach and work with various stakeholders as we pursue genuine change."
At the SeaBOS meeting, Dr. Adisorn Promthep, Director General of Thailand's Department of Fisheries, outlined how the "yellow card" the European Union imposed on Thailand because of unsustainable fishing practices had resulted in improved sustainability in the domestic industry. He said the yellow card – which was lifted in early 2019 – had also resulted in Thailand introducing formal management regulations that were now being enforced, as well as reducing IUU and forced labor in Thailand.
SeaBOS is an initiative that brings together scientists from the Stockholm Resilience Centre at Stockholm University, the Royal Academy of Sciences in Sweden and 10 of the largest seafood companies in the world. SeaBOS aims to lead a global transformation towards sustainable seafood production and a healthy ocean.
This year's SeaBOS meeting was hosted by Thai Union and CPF under the banner Global Connectivity – Consolidating and Accelerating Change. Attendees agreed to strengthen links between science and industry to increase sustainable seafood production to meet growing consumer demand. They also agreed to increase collaboration to tackle illegal, unreported and unregulated (IUU) fishing and forced labor, improve seafood traceability, and work towards enhanced sustainable fisheries management.
All SeaBOS members established a new task force on Climate Resilience, to address the key impacts of climate change on the seafood industry, along with recognition for the health benefits of eating more seafood, while also reducing the carbon footprint of food production.