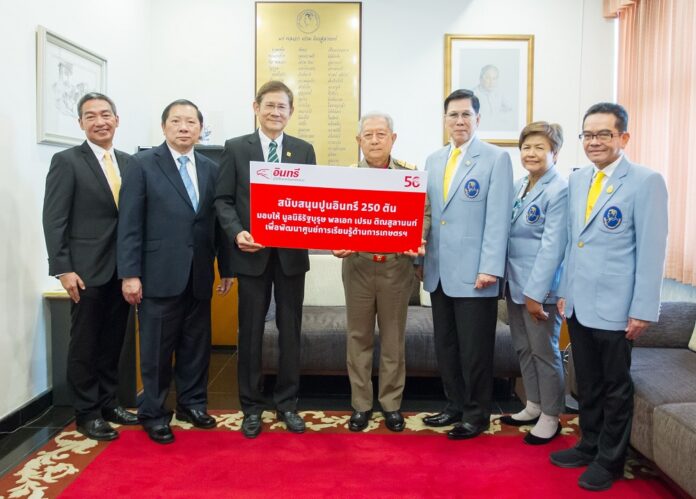 Gen. Surayud Chulanont (center), acting President of the Privy Council and Chairman of the General Prem Tinsulanonda Statesman Foundation, recently received a generous donation of 250 tons of cement worth 500,000 baht in total from Siam City Cement PCL (SCCC) represented by Pradap Pibulsonggram (3rd left), Independent Director and Member of Audit Committee at SCCC; and Pongpinit Tejagupta (2nd left), Director and Chairman of Governance, Risk and Compliance Committee at SCCC. The cement donation is aimed to support the renovation project of General Prem Tinsulanonda Statesman Foundation's Agricultural Learning Center in Sa Kaeo province including the construction of the Center's multi-purpose building, office building and restrooms, staff residence building and more.
The donation was part of the social contribution activities in a sustainable manner, conducted to mark SCCC's 50th anniversary.
Photo also shows Gen. Pongthep Thespratheep (3rd right), Boonchu Tangtrakool (2nd right), Gp.Capt. Poonyavit Ratanakorn (far right) and Yongyuth Sngangarm (far left) at the office of General Prem Tinsulanonda Statesman Foundation in Bangkok.