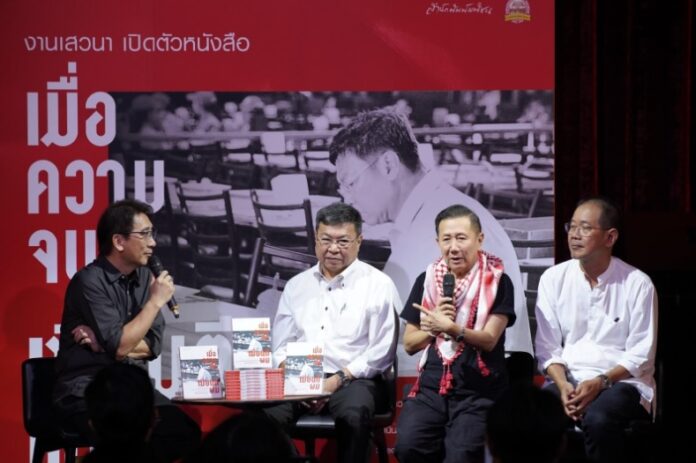 "Mua Kwam Jon Kien Tee Pom" is a memoir of a young merchant that started what later became his life-long career in primary school. The boy later became the pioneer of Thailand's microbrewery business.
His first establishment produced German-style beers and served them at competitive prices in a 1,000-seat restaurant during the economic crisis. Two centuries on, he made his way to success and became the leader of the industry, all thanks to his resolution "not to be poor anymore".
Life story and business marvel of Supote Teerawatanachai, founder and owner of Tawandang German Brewery, that is no less sensational than the tastes of his beers, is put into words by Wanchai Tantiwittayapitak, Sri Burapha Award winner and former managing editor of Sarakadee Magazine, in a pocket book titled, "Mua Kwam Jon Kien Tee Pom" (When Poverty Beats Me). Being friends with Supote most of his life, Wanchai has unique capacity to put together an accurate, captivating and inspiring story of a fighter entrepreneur who took many major hits and fall but always found himself on his feet and moving on.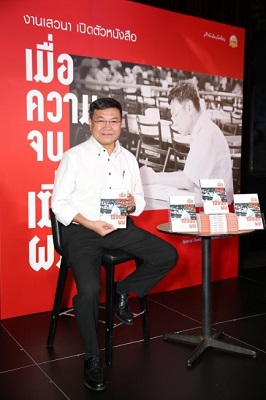 It all started 40 years ago when little boy Supote, born in a family with modest financial status, was pushed into salesmanship to help out in the family, from selling snacks and soda at 25 satang a cup to making T-shirts to sell at Bo Bae wholesale market. In college, Supote was engaged in various activities and became the president of drama club at Thammasat University where raised funds and managed club members – skills that later proved to be vital in his business.
But that did not guarantee smooth sailing for Supote. His family's clothing business faced many challenges from Thailand's economic crisis as well as the corruption and dishonesty in the business circle. Supote didn't give up. He established the then-renowned T-shirt brand, Yam & Yim, that earned the family substantial income. Unfortunately, overexpansion of the business forced the business to close down.
Lessons from mistakes and misfortunes gave Supote visions and courage to take risk. With the last bit of saving, Supote gathered like-minded partners to open Tawandang German Brewery, a microbrewery that brought German beer making know-how and brew master from Germany to produce draft beer on site, accompanied by world class entertainment curated by Bruce Gaston of the Fong Nam fame.
"200-seat restaurant and 1,000-seat restaurant take as much energy to manage. I have invested so much in a beer making machine that produces 2,000 liters a day and I have to make it worthwhile. I wanted to make delicious beers and tasty food for my customers, and I believe I can be successful," Supote professed his resolution.
Amid Thailand's economic crisis in 1999, Tawandang German Brewery has gracefully opened under Supote's close supervision, from beer making, food menu, services and personnel management. He even enrolled in a professional cooking course at Dusit Thani College to perfect his microbrewery.
20 years on, Tawandang German Brewery expanded to three branches with more than 1,000 employees while its beers, still in original recipes from day one, become widely renowned. Signature dishes such as Tawandang pork knuckle, crispy prawns, lotus roots and braised beans and stir-fried cabbage with fish sauce became legendary. Overall income hits 800 million baht.
When poverty brutally hit him to a point, he "no longer wanted to be poor anymore."
Besides that inspiring story to success of Supote in "Mua Kwam Jon Kien Tee Pom", the book also reveals beer making process, management tips and fun stories from the brewery that will surely put a smile on your face.
"Mua Kwam Jon Kien Tee Pom", life story of Supote Teerawatanachai penned by Sri Burapha Award winner Wanchai Tantiwittayapitak and published by Matichon Book, is available now in book stores at 170 baht.