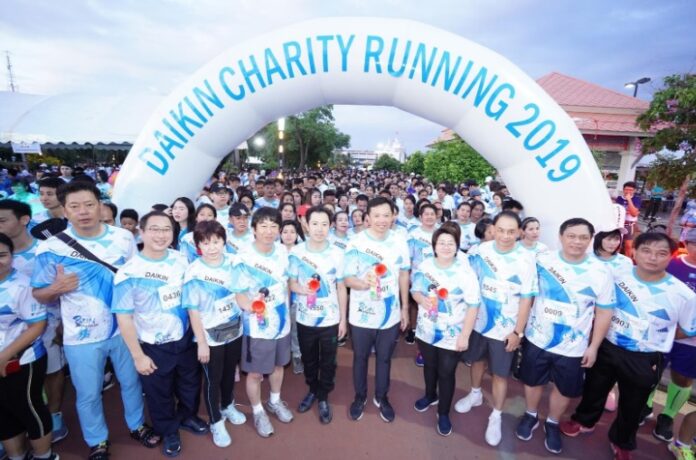 As part of raising social awareness to maintain good health and supporting sport activities, Daikin Industries (Thailand) Ltd. (DIT) hosted the "Daikin 2019 Charity Run" on Sunday September 8, 2019 at Chonlamak Withi 84 Phansa Causeway in Chonburi Province. The run, which raised funds for new construction and medical equipment of the Chonburi Cancer Hospital, was joined by Somporn Jangreenapawong and Jessada Supcharoen, Assistant Managing Directors of Siam Daikin Sales Co., Ltd., along with thousands of executives and employees of Daikin subsidiaries who enthusiastically participated in the run.
Junichi Omori, President of Daikin Industries (Thailand) Ltd., enthused that, "Apart from our operation as a leader in air conditioning innovation that both home and commercial users from all over the world trust in, all the subsidiaries under Daikin firmly believe in social responsibilities and the collaborative effort of the team to give back and benefit the society through various social awareness activities. This time around, we encourage Daikin employees, and their families, to walk or run, which is a great way to exercise, and raise fund for Chonburi Cancer Hospital. The proceeds of the event will go to provide the hospital with medical supplies and equipment, and support the construction of a new building. Cancer is one of Thailand's biggest public health threats and it requires long and expensive treatments. Chonburi Cancer Hospital is responsible for patients from all over the eastern region of Thailand that are increasing every year. We truly hope that this charity event and our effort will help increase the hospital's capacity and treat as many patients as possible."
Daikin's 2019 Charity Run was a 4 and 10-kilometer run, without a competitive class. More than 2,700 runners, who were Daikin employees, staff members of Chonburi Cancer Hospital and locals, participated in the charity event.