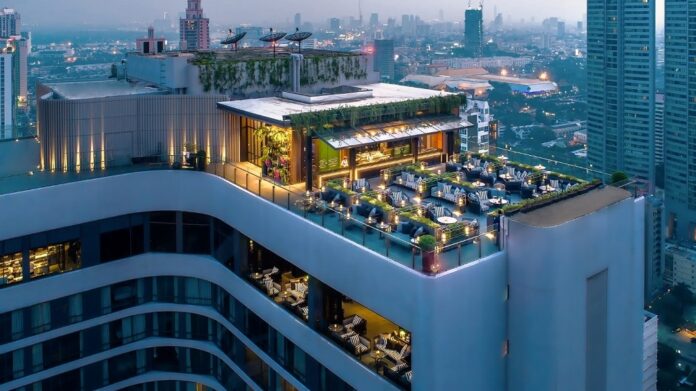 BANGKOK, THAILAND – 19 November 2019 – The second edition of the Marriott International Liquid Masters 2019 bartending competition will take place from 19 – 21 November at the stylish rooftop bar of Bangkok Marriott Marquis Queen's Park. 19 expert mixologists from 9 Marriott International brands across 10 cities in Thailand, Indonesia, Singapore, Malaysia and Vietnam – The Ritz-Carlton, St. Regis, W Hotels, JW Marriott, Marriott Hotels, Le Méridien, Westin, Renaissance Hotels and Tribute Portfolio – will go head-to-head in a regional showdown that promises to be an adrenaline-fueled display of skills, talent and showmanship. The competitors will be pushing the boundaries of the mixologist's art with their signature creations. The event will feature a dazzling menu of premium Craft Collective spirits, including Nusa Caňa Tropical Island Rum, Nouaison Gin, Diplomatico Rum, Mr. Black Cold Brew Coffee Liqueur, La Quintinye Vermouth Royal and Giffard liqueurs.
"People have always been at the core of our company's growth and success. We continuously provide opportunities for our talents to evolve and shine, as it translates into exceptional, personalized and elevated guest experiences," said Petr Raba, Vice President, Food & Beverage Operations, Marriott International Asia Pacific. "Through fun and interactive events such as Liquid Masters 2019, we hope our talented bartenders will leverage this platform to hone their skills, step up their mixology game and showcase bartending mastery for a highly appreciative audience."
The Marriott International Liquid Masters 2019 will see 19 top bartenders from the five countries take part in three days of workshops, challenges and team building activities, facilitated by some of the industry's leading professionals. The event aims to develop and educate the bartenders as they revisit the key skills of their craft.
Each day, the bartenders will work in teams to win points for engagement, team work, knowledge, enthusiasm and other criteria. A daily winner will be selected each day, which will conclude with an immersive curated bar crawl across some of Bangkok's top cocktail bars, where participants will get to discover different styles and techniques of their craft alongside their colleagues and friends. The final showdown on day three will see the bartenders being challenged to craft a new signature cocktail using the premium ingredients, with the theme of innovation and sustainability. The bartenders will have to create a story behind their cocktail, and give it a name. A grand prize will be awarded to the bartender who wins the most points at the end of the three days, and becomes the winner of the Marriott International Liquid Masters 2019.
"Here in Asia-Pacific, we have an excitingly dynamic and diverse dining landscape. The abundant variety of amazing cuisines reflects the cultural importance of authentic foodie experiences in this region," adds Raba. "With an extensive portfolio of over 2,800 restaurants in Asia, we share locally-relevant F&B experiences through captivating concepts, unique design and of course, world-class talents. This is why we are proud to nurture our outstanding chefs and bartenders, who are the true creative forces behind all the great dining at Marriott International hotels."